Residents in Mayo Danay in northern Cameroon say hundreds of elephants and hippopotamuses have been causing enormous damage to their farms and villages.
Ledou Ahmadou from Bougay village told DW he had lost all his crops to the animals.
"The elephants and hippopotamuses have destroyed my sorghum and onions and continue to attack us in our villages," he said.
The animals left the 4,000 hectare (9,900 acre) Kalfou Wildlife Park for greener pastures. Senior administrative official Nkwenti Simon Doh said parts of the park had been converted into farmland and villages by local inhabitants. This was putting pressure on resources. Doh said three hippopotamuses had been killed as the animals moved out and he urged people to show restraint.
"I am calling on the population not to take the law into their hands by killing the animals. There will be enormous social and economic benefits if people help us to protect these gigantic animals," he said
Alexandre Breche from the World Wildlife Fund warned of dire consequences if government officials and people whose property has been destroyed continue killing the animals.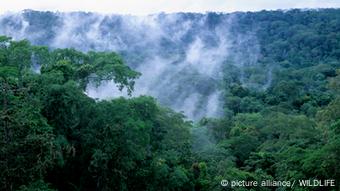 Conservationists say the Congo Basin is losing its big mammals
He told DW that Cameroon and the wider Congo basin was one of the world's natural treasures, the second largest rain forest in the world, and it was losing its big, emblematic mammals like the elephants.
"The forest elephant population has dropped by 60 percent in the last 10 years. We need the message to be sent, stop killing the elephants otherwise in the next 10 or 20 years we might not be able to see wildlife in the forest," he said.
Conservationists' concerns
Sone Noke works for Wildlife TRAPS (Wildlife Trafficking Response Assessment and Priority Setting), an NGO seeking to protect global biodiversity from the threat of the illegal trade in wildlife.
He defends his organization from the allegation that it is more interested in animals than in people, saying it was "a misconception." The issue was natural resources.
"Maybe in the next 10 years we will not have lions in Cameroon. Black rhinoceros are virtually extinct in Cameroon. So that is what we are talking about," he told DW.
Dan Challender, conservation scientist at the International Union for Conservation of Nature (IUCN), speaking on DW's Africalink show, highlighted the role played by communities in present and future conservation of species threatened by wildlife crime.
"There are a number of case studies where communities have led conservation initiatives and it's proved incredibly successful," he said.
Wildlife Conservation Day falls on December 4.