David Allen Turpin, 57, and his wife Louise Anna Turpin, 49, pleaded not guilty to multiple counts of torture and other charges at their first court appearance on Thursday.
Riverside County District Attorney Mike Hestrin (pictured) revealed new information about the couple's "depraved conduct" against their 13 children that sounds like a script from a horror movie.
They face 12 counts of torture, 12 counts of false imprisonment, six counts of child abuse and six counts of abuse of a dependent adult. David Turpin also faces one count of committing a lewd act against a child.
If convicted of all charges they face up to life in prison.
The two were arrested on Sunday after their 17-year-old daughter escaped from their home and notified police. Another girl also escaped but returned out of fear.
Hestrin said the girl had been planning the escape for nearly two years.
When police arrived at the four-bedroom, three-bathroom home in Perris, a town southeast of Los Angeles, they found the couple's 12 malnourished children, aged 2 to 29 years old. Three of the children were found shackled with chains and locks.
The house was dirty and rancid.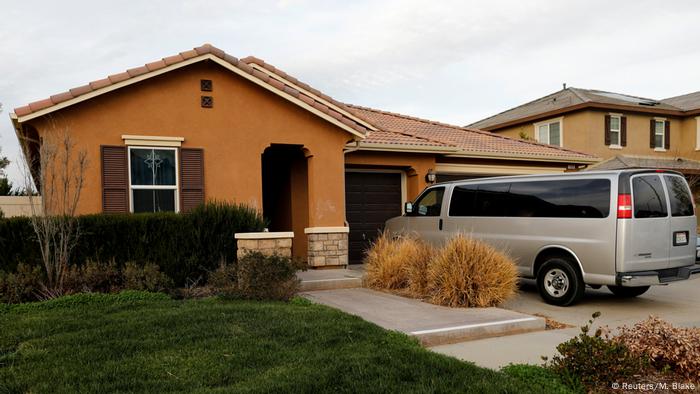 The inside of the house was filthy and had a horrible stench.
"Circumstantial evidence in the house suggests that the victims were often not released from their chains to go to the bathroom," Hestrin told a press conference.
"If the children were found to wash their hands above the wrist area, they were accused of playing in the water and they would be chained up," he said.
The children were only allowed to bathe once a year, he added.
Stunted growth
The children and adults were so malnourished that police initially thought they were younger than their true age. The oldest child, a 29-year-old woman, weighed only 82 pounds (37 kilograms). Officers initially thought the emaciated girl who escaped was about 10 years old.
"They were fed very little, on a schedule," Hestrin said, adding that the two parents ate well and taunted the children with pies.
If they were not chained, the children were often locked in their rooms. They were also not allowed to play with toys, Hestrin said, although new toys in packaging were found in the house.
All thirteen children were sent to nearby hospitals for medical treatment.
David and Louise Turpin were allegedly home schooling the children, some of whom did not know what a police officer was.
They had not been to a dentist. The last time one of them had been to a doctor was four years ago. The girl who escaped didn't know what medication was.
Journals to reveal more information
Hestrin said that some of the children knew how to read and write and were allowed to keep journals.
Investigators are now looking through the journals, which will likely reveal more details and be used as evidence.
The abuse apparently started when the family lived in the Fort Worth area of Texas, but "intensified over time and worsened" when they moved to California in 2014, Hestrin said.
There is no known motive for the abuse.
It is unclear how the couple was able to maintain the abuse for so long.
The children were rarely seen outside the home. However, the parents posted photos of the family smiling together at Disneyland and in Las Vegas.
Hestrin said that the family appeared to have stayed up at nights and slept during the day to avoid being noticed by other families in the neighborhood.
cw/rc (AFP, AP, dpa, Reuters)