German unemployment, the country's biggest headache for over a decade, fell by a seasonally adjusted 108,000 in December to 4.12 million or 9.8 percent of the workforce, the Nuremberg-based Federal Labor Office said Wednesday. The ninth consecutive monthly decline, the December jobless rate is the lowest since August 2002, from 10.1 percent.
As one of the first key pieces of German economic data to be released in 2007, the unemployment figures are likely to add to expectations that the strong economic momentum built up in the country last year will help to propel the world's third-largest economy behind the United States and Japan through the coming 12 months.
Mild weather and economic upturn
Labor office chief Frank-Jürgen Weise pointed to Germany's unseasonably mild winter weather as helping to underpin the nation's labor market. Last month was the warmest December in Germany in 32 years.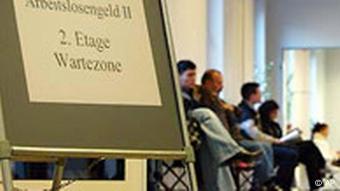 Unemployment has been Germany's biggest headache
"The decline in unemployment in December "is primarily due to the positive economic situation, but unusually mild weather has also played a role," Weise said Wednesday.
Commerzbank AG economist Matthias Rubisch echoed Weise's comments. "The positive tendency on the labor market is partly the result of the dynamic economic development and as a result is likely to continue in the coming months," Rubisch told news agency DPA.
The upturn was evident during the buoyant Christmas shopping season which delighted retailers even though higher sales were partly attributed to advance purchases to avoid the three-point hike in the VAT (sales tax) to 19 percent at the start of 2007.
Underlining the optimistic outlook for Germany, one of the nation's leading economic institutes, the Berlin-based German Institute for Economic Research (DIW) on Wednesday revised upwards its economic growth projections for the year.
Despite a slowing global economy and the VAT hike, the DIW expects the nation's growth rate to come in at 1.7 per cent this year compared to a previous forecast of 1.4 per cent. Europe's biggest economy should then accelerate to 2.5 per cent next year, the DIW said. Germany emerged from a protracted period of stagnation last year to post what the DIW expects to be a 2.3 per cent growth rate in 2006.
Companies announce hiring
The declining unemployment suggests that Europe's largest economy may not be adversely affected by Chancellor Angela Merkel's three percentage-point increase in sales tax on Jan. 1.
"We're in a truly upbeat economic environment," Stefan Bielmeier, a fixed-income strategist at Deutsche Bank AG told news agency Bloomberg. "Companies have good reason to consider hiring."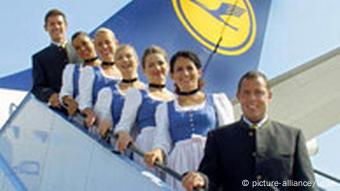 Lufthansa plans to create 3,000 new jobs
That's exactly what some firms are doing. Deutsche Lufthansa AG, Europe's second-biggest airline, plans to create 3,000 new jobs in Germany this year to meet growing demand in the region. Other German companies such as Continental AG and Adidas AG plan to raise spending and hire new staff as profits rise.
Herbert Hainer, chief executive of Adidas, the sporting goods maker, said last month that while the company was expanding the most in markets like Russia and China, it was also growing in Germany, where it plans to create about 100 jobs in 2007.
"The German economy is ready to take off," Axel Heitmann, chief executive of Lanxess, a chemical maker that plans to hire at least 100 new people and invest 4 percent of sales, told daily International Herald Tribune. "Besides an unchanged strength in exports, increasing capital investment and private consumption is contributing. I'm optimistic for 2007."
The DIHK industry and trade chambers, which represents more than 3 million companies, said last week that German firms, including businesses in the chemical, engineering and automobile sectors, may create as many as 30,000 new jobs this year.
Germany most competitive economy in euro zone
The flood of good economic news, a sharp departure from the gloom and self-doubt that has pervaded the country in recent years, received a further fillip this week with a survey published by business daily Handelsblatt saying that Germany is now regarded as the most competitive economy in the 13-nation euro single currency area.
On a scale of 1 (very good) to 5 (very bad), the survey of 1,175 European top executives gave Germany an average grade of 2.5, up from 2.8, and only behind China (1.8) and Switzerland (2.4).
Part of Germany's perceived competitiveness in the survey was due to economic reforms pursued by Chancellor Angela Merkel, according to the Handelsblatt.
"56 percent of German executives are sure that the government led by Merkel had improved the competitiveness of German companies," the paper said.
Expert says no straying from reform path
Klaus Mangold, federal commissioner for foreign investments, confirmed the survey's findings.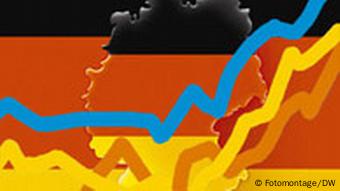 Germany's economic prospects look rosy
"The country has become more competitive," Mangold told daily Saarbrücker Zeitung. He added that Germany's image abroad as a business destination had significantly improved and the moderate rise in wages in recent years had contributed to the fact that Germany "is no longer a hugely expensive business location."
At the same time, Mangold said, international investors now expect Germany not to remain idle. "That applies particularly to the areas of taxation and non-wage labor costs," Mangold said, adding that the German government would now be judged on how seriously it pursued and implemented further reform.