Bulgaria and Romania share a long border, were once part of the same empire and, for over 40 years, both belonged to the Soviet bloc. But despite these commonalties, Bulgarians and Romanians have basically remained strangers to one another. The countries' relationship over the years has been marked by small grievances, a little prejudice, and a fair amount of disregard.
"There is a long history of disputes, economic and political conflicts, between Romania and Bulgaria," says Marian Chiriac, a Romanian journalist and a director of the Balkan Investigative Reporting Network.
According to Chiriac, those differences go far back in history. Even during the Socialist era, when both countries were ruled by hard-line dictators and they belonged to the Warsaw Pact, they often didn't see eye-to-eye.
"They belonged to the same Communist regimes, but were very different," Chiriac says. There were differences in language, differences in foreign policy and different interests in the economy.
Close ties were just for show
Romanian dictator Nicolai Ceausescu was fond of making profuse statements about the close friendship Romania shared with its southern neighbor. His Bulgarian counterpart Todor Zhivkov even had a special wing for the Ceausescu family built at one of his residences near the border.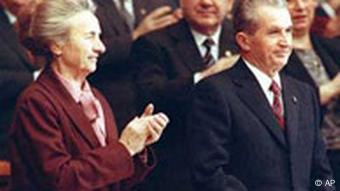 Ceausescu and his family were always welcome in Bulgaria
But the close ties were largely just for show. After 1989, when Soviet domination over Romania and Bulgaria came to an end, so did the fake fraternity. In the 1990s, old quarrels and stereotypes were again given free reign and a few new problems even popped up.
Chiriac says Romanians and Bulgarians were repeatedly in dispute, for example over the pollution from factories along the common border.
"Also, Romania and Bulgaria were not interested in having more roads to link both countries," Chiriac says. "Right now, there is only one bridge between Romania and Bulgaria and this is very strange for a common border."
The Friendship Bridge is markedly unfriendly
Along the 470 kilometers of Danube river border, there is exactly one road crossing point. It's just 67 kilometers south of Bucharest. The distance may be short, but the journey is not at all easy.
At the border, travelers enter what appears to be a bureaucratic labyrinth. What should be a five-minute process is stretched out to an hour-and-a-half. Officials take passports, scribble on forms or just stand around chatting with each other.
Finally, after several checkpoints, the actual bridge over the Danube is reached. It's called the Giurgiu-Rousse Friendship Bridge and was erected between 1952 and 1954. There are support structures on both riverbanks, in a kind of Socialist-neoclassical style, with big rectangular towers supported by pillars.
Miroslav Markov, a Bulgarian businessman who lives in Bucharest and travels a lot between the two countries, says the bridge was built in a time when Socialism was still young and motivated.
"For sure they aimed for this friendship," Markov says. "But the outcome is another question, because it's a pity when we see that the bridge is quite empty. There is not a lot of traffic in one or another direction."
The bureaucracy doesn't help. Once the Bulgarian side is reached, there's more waiting and more "taxes" that authorities ask for from the driver. Those in their own cars have to pay up to 50 Euros ($64) in various fees. The whole Byzantine process succeeds very well in discouraging cross-border traffic.
Trying to change the status quo
One writer who saw the bridge wrote that it made him think of two people shaking hands while leaning as far away from each other as possible. For many, the Danube border reflects the two countries' cross-border relations. But this needs to change.
"There is just the single bridge on it and this is strange and absurd. It's something people cannot understand," says Mimi Kurázheva. "They want to change the situation."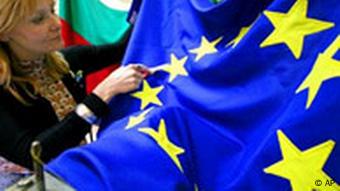 EU membership could change cross-border relations
Kurázheva is one of those trying to change the status quo. She's the director of the Bulgarian-Romanian Interuniversity Europe Center. It's a cooperative effort between universities on both sides of the border to strengthen ties and promote exchange, especially among young people.
"This way, we are meeting our political goal, which is to bring closer the population belonging to this cross-border region and also to contribute to the opening of the border in terms of free movement of people, which is unfortunately not the fact yet," Kurázheva says.
Can a new bridge improve relations?
A bigger accomplishment for both countries was the final approval in July 2006 of a new bridge to be built over the Danube. It will join the northwestern Bulgarian city of Vidin with the southwestern Romanian town of Calafat. It's hoped the 236-million-Euro project will give an economic jolt to one of Europe's least-developed regions and help improve relations further.
The project has been under discussion for almost a decade and delays have been the norm. But thanks to European prodding, construction is expected to begin next year and traffic should be flowing over the bridge from 2009. According to journalist Chiriac, Brussels in general has a lot to do with the two countries slowly getting closer. Both are EU candidate countries, which could join in 2007, and are seen by many as a package.
"Only because of Brussels, both countries had to develop their relations at the political and economic level," Chiriac says. "I hope that the relations between people on the ground level will then improve."
Still, slowly, some old prejudices are falling away, according to businessman Markov. Especially as people begin to see their future in a wider, European context.
"Especially the younger generation doesn't have this prejudice; they are living in new times," Markov says. "They don't have time to look back so much or they just don't listen."
That focus on the future is likely the key to leaving behind the suspicion and distrust. As both governments and the common folk realize there's more to be gained from working together than eyeing each other distrustfully from opposite banks of the Danube, the old neighbors look like they're slowly on the way to getting reacquainted.