Interserve, one of the British government's main outsourcing contractors, saw its shares fall between 5 and 15 percent on Wednesday after it was revealed the company is under special scrutiny, two days after the collapse of its rival Carillion.
The Financial Times reported that British ministers were "very worried" about the construction and support services firm whose stock price dropped more than 70 percent in 2017.
Several warnings over debt
Interserve issued a profit warning in September, saying it was set to make huge losses on an energy-from-waste contract in Scotland.
It went on to issue a second warning the following month, partly as a result of a hiatus in the UK government outsourcing projects following the June 2016 referendum that saw Britain vote to leave the European Union.
Read more: 2018: The year of Brexit decisions
A spokesperson for the Cabinet Office — which coordinates between the prime minister and other government departments — told the Guardian on Wednesday: "We monitor the financial health of all of our strategic suppliers, including Interserve. We are in regular discussions with all these companies regarding their financial position."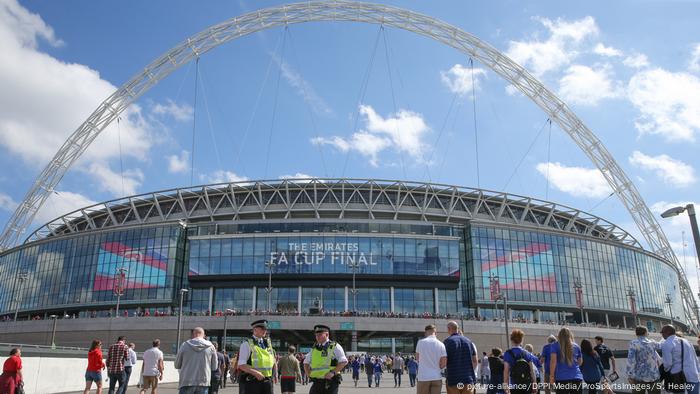 Interserve worked on several large UK construction projects including the London Eye and the new Wembley Stadium, which opened in 2007
The spokesperson said the government did not believe that any of its strategic suppliers are in a comparable position to Carillion.
Company reassures
Meanwhile, Interserve, a major government supplier across the health, education and defense sectors, said it was keeping the government up-to-date on discussions with lenders on its turnaround plan.
"We continue to have constructive discussions with lenders over longer-term funding," a spokesman for the company said.
Sector peer Carillion went into forced liquidation on Monday after the heavily indebted company failed to secure a financial rescue deal from banks.
Despite a plethora of private and public service contracts in Britain, the company is believed to have accumulated some £1.5 billion (€1.7 billion, $2.1 billion) in debt and liabilities.
The British government has faced criticism after it was revealed Carillion continued to win public sector contracts after issuing several profit warnings.
Brexit impact?
One Paris-based asset manager described concern around Interserve and Carillion's collapse as signs of the pain Brexit is likely to bring, warning that firms that are almost entirely exposed to the UK economy can expect to fare badly.
"For all 'very British' companies one can see that there is an issue with faltering sales," said Olivier de Berranger, who heads asset management at France's La Financiere de l'Echiquier.
"Markets pay little attention to Brexit but there are worrying signs like the bankruptcy of Carillion or the decrease in traffic at Eurotunnel," he told Reuters.
Read more: Juncker: EU hopes UK will rejoin bloc after Brexit
But Joe Brent, an analyst at investment bank Liberum, said: "We believe Interserve is very different from Carillion. There is clearly too much debt... But there are businesses to sell and we believe that shareholders would support a raise."
mm/hg (Reuters, AFP)