Britain announced Sunday it would expel Libya's ambassador after the UK's embassy was attacked in Tripoli. The attacks came just hours after a NATO airstrike killed Libyan leader Moammar Gadhafi's youngest son late on Saturday.
British Foreign Secretary William Hague said Libyan Ambassador Omar Jelban was "persona non grata" and had been given 24 hours to leave the country.
Hague confirmed reports that the British diplomatic compound in the Libyan capital had been destroyed, and said there had also been attacks on other countries' diplomatic missions there.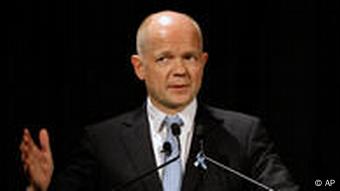 UK Foreign Secretary William Hague said Libya's ambassador is "persona non grata"
"The Vienna Convention requires the Gadhafi regime protect diplomatic missions in Tripoli. By failing to do so that regime has once again breached its international responsibilities and obligations," Hauge said in a statement on Sunday.
Italy's foreign ministry on Sunday also condemned "acts of vandalism" carried out against its own and other foreign embassies in Tripoli.
UN staff leaves capital
On Sunday, the United Nations announced that its international staff has left Tripoli because of the unrest there.
Stephanie Bunker, a spokeswoman for the UN Office for the Coordination of Humanitarian Affairs, said on Sunday that 12 staffers had left the North African country and were now in neighboring Tunisia.
UN staffers do remain in the rebel stronghold of Benghazi, in eastern Libya.
Gadhafi survives
On Saturday night, a NATO missile strike on a residence in Tripoli killed Moammar Gadhafi's 29-year-old Saif al-Arab Gadhafi and three of Gadhafi's grandchildren.
The Libyan leader and his wife were also at the single-story building in a wealthy Tripoli neighborhood, the government said, but survived the attack.
"The leader himself is in good health," state spokesman Moussa Ibrahim said. "He was not harmed. The wife is also in good health."
Early Sunday, NATO denied having targeted Gadhafi or his family members.
"NATO continued its precision strikes against regime military installations in Tripoli overnight, including striking a known command and control building in the Bab al-Azizya neighborhood shortly after 1800 GMT Saturday evening," it said.
'We will fight and fight'
The attack came shortly after Gadhafi called for ceasefire and said he was willing to negotiate with NATO to bring an end to alliance airstrikes against his country. NATO denied targeting the Gadhafi family
"We will fight and fight if we have to," Ibrahim said. "The leader offered peace to NATO yesterday and NATO rejected it."
Rebels with the opposition forces seeking Gadhafi's ouster rejected the call saying "the time for compromise has passed."
In the rebel stronghold of Benghazi, celebratory fire rang through the city as opposition forces reacted to the news.
Saif, who had mostly avoided the media spotlight, unlike some of his older siblings, had studied in Germany and was the youngest of Gadhafi's six sons.
Author: Sarah Harman, Stuart Tiffen (Reuters, dpa, AP)
Editor: Kyle James