"President Dilma Rousseff ordered all due legal measures be taken against Mr Delcidio do Amaral, to hold him responsible under the law for all his defamatory statements," her office said on Saturday, after Amaral's allegations against her were published in a magazine.
Amaral, who is facing charges related to a high-profile corruption scandal, told Brazil's best-selling weekly magazine that the President's successful presidential campaigns in 2010 and 2014 were financed with money from the scheme.
He also alleged that former president Luiz Inacio Lula da Silva masterminded the long-running bribery scheme at state oil company Petrobras.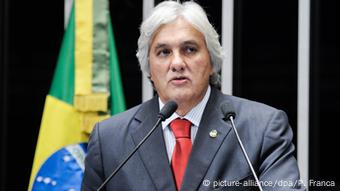 Delcidio do Amaral has turned on his former ally
"Lula directly negotiated the appointment of Petrobras's directors with the different parties in Congress and knew exactly what the parties did with the directorships, mainly in terms of financing their campaigns," Amaral told Veja magazine. "Dilma inherited and benefited directly from this system," he added.
Rousseff and Lula have repeatedly denied any wrongdoing. A spokesman for Lula said Amaral had no evidence of what he told the magazine.
Amaral, who was leader of the ruling Workers' Party (PT) in the Senate and a close Rousseff ally, was arrested in November on charges of attempting to bribe a former executive of state-run oil company Petrobras.
The plot thickens
Investigators accuse several Petrobras directors of colluding with contractors to overbill the company by billions of dollars, while bribing politicians to keep the system going.
Earlier this week, Amaral accused Rousseff of trying to buy his silence when he was first detained in the Petrobras case. That allegation was made as part of a plea bargain in return for a lighter sentence.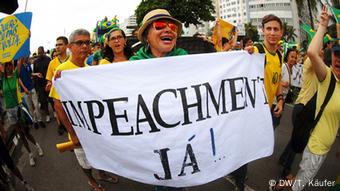 Rousseff is the target of huge public anger over the scandal
Analysts say the Rousseff is barely clinging to power, amid impeachment proceedings in the Senate over the bribery scandal, mass street protests of close to a million people and plummeting approval ratings. She is also presiding over Brazil's deepest recession since the Great Depression.
On Thursday, she named ex-president Silva as her chief of staff, a decision which was quickly blocked by a Supreme Court judge over allegations she was trying to shield her mentor from arrest in the Petrobras case, as the position comes with legal immunity.
A new poll on Saturday found that 68 percent of Brazilians would support impeachment, up eight percentage points from a month ago.
mm/bw (AFP, AP, Reuters)