Your ticket to the German classical music festival scene: Concert Hour has the picks of the season — two hours of music updated regularly. Along with host Rick Fulker, the musicians themselves are on hand to give their insights into the events and the music.
Tensions revisited, part one
Janacek's Pohadka is a light, playful musical fairy tale in which the protagonists get into complicated situations and are released from them through the intervention of a magical being. The protagonist is a noble and dashing prince who falls in love with a beautiful princess. But there's a hitch: Her father is the fearsome king of the underworld.
Bela Bartok strikes a dryer, wilder tone in his second violin sonata, described by violinist Christian Tetzlaff as "a fantasy land with completely absurd apparitions, both tender and brutal."
Then there's the Beethoven. Grand gestures, sweeping emotions: Chamber music never sounded so big before the Violin Sonata No. 7 of 1802, coming from what music historians call the beginning of the composer's "heroic" phase. In it, says violinist Antje Weithaas, "You clearly feel Beethoven's agitation, disruption and desperation. But as in all of his pieces, there are transcendental moments too."
Leos Janacek
Pohadka (Fairy Tale), three pieces for cello and piano
Hungarian composer Bela Bartok (1881-1945)
Ludwig van Beethoven
Sonata in C Minor for violin and piano, op. 30, No. 2
Bela Bartok
Sonata No. 2 for violin and piano, 1st movement
Performed by:
Antje Weithaas, violin
Christian Tetzlaff, violin
Gustav Rivinius, cello
Lars Vogt, piano
Recorded by Radio Deutschlandfunk Kultur, Berlin (DLF) in the Church of Jesus Christ, Berlin, on June 22, 2020
Rebroadcasting rights: one broadcast after February 7, 2022
A still from "The Sly Fox," one of Janacek's later works
Tensions revisited, part two
More music chamber from the festival called Tensions: a violin sonata by Bartok and the Clarinet Quintet by Brahms.
A music critic once described Bartok's violin sonata as "a Hungarian fortress of sound, only to be breached by violin virtuosos." Christian Tetzlaff, certainly a violin virtuoso says, "Playing it is like walking a tightrope."
Brahms' clarinet quintet comes from a time in his life when he'd basically wrapped up his composing career. In it, the clarinet seems to sing, sometimes even to scream. Is Brahms saying goodbye to life itself here? Clarinetist Sharon Kam explains, "You hear that heartbeat at the end. It stops repeatedly. This piece truly does reach an end - at the end, and after a very long journey filled with emotions and with much joy. This is like saying goodbye to a beautiful life."
Bela Bartok
Sonata No. 2 for violin and piano, 2nd movement (excerpt)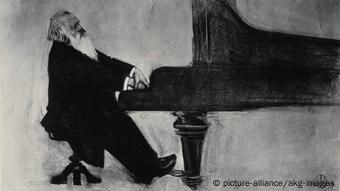 Johannes Brahms at the Piano
Johannes Brahms
Quintet in B Minor for clarinet and string quartet, op. 115
Performed by:
Christian Tetzlaff, violin
Lars Vogt, piano
Sharon Kam, clarinet
Isabelle Faust, violin
Vilde Frang, violin
Barbara Buntrock, viola
Julian Steckel, cello
Recorded by Radio Deutschlandfunk Kultur, Berlin (DLF) in the Church of Jesus Christ, Berlin, on June 22, 2020
Rebroadcasting rights: one broadcast after February 7, 2022