What's velvet and smells of lavender? What's studded with small mirrors and embroidered with gold? Believe it not -- books!
The festive season has seen the publishing world throw understatement to the winds and enter into the Christmas spirit with a vengeance. There was a time when books were considered a last bastion of intellectual integrity in the face of consumer excess, but these days, a complementary CD is the least the discerning consumer expects when buying a book.
Sensory stimulation
Publishers have decided that it's high time reading matter delighted as many senses as possible, and according to publishing consultant Andreas Meyer, "polysensual branding is a major consumer trend."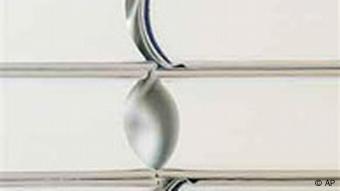 Fashion-conscious book-lovers should know that white pages are totally passé
So just as busy professionals across the country are starting to panic about what to buy their mother-in-law for Christmas, the Rowohlt Verlag publishing house has launched a limited edition series of eight classics that are specifically designed to be bought as gifts. With their slinky covers, the paperbacks are aimed at what Lisa Berger from Rowohlt describes as "educated readers" with a healthy appreciation of luxury and "an above-average income" --even though she points out that they cost barely more than standard issue books.
Children's books, meanwhile, positively cry out for maximum sensory stimulation. Glittery stars, reliefs and pop-ups have become an integral part of the picture book market, and have never been more popular. And in terms of paper quality and printing, German books enjoy an excellent reputation.
Art publisher Weingarten has come up with calendars scented with lavender, herbs, spices or even coffee, while the highlight of Hamburg-based Hoffmann und Campe's Christmas list is a collector's item for all Bob Dylan fans -- called "Scrapbook," it features copies of concert tickets, hand-written notes and vintage flyers.
Unique selling points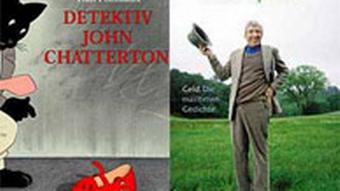 Velvet covers or CDs? Anything to please the customer!
Marebuch Verlag has come up trumps with mini CDs bundled with collected poems by John Updike featuring the writer reading his work himself -- a publishing coup, considering Updike is famously reluctant to read in public.
Another perfect Christmas gift is "Venice" by Armin Mueller-Stahl, published in a special edition complete with original illustrations by the German actor himself.
Reflecting a trend to publish books with audio accompaniments, anyone who buys Osanna Vaughn's fantasy fiction "Falcon Sight" gets a complementary CD featuring a specially-composed soundtrack to the book, while the adventures of detective John Chatterton published by the Frankfurt Moritz Verlag come with a CD of cool saxaphone sounds.
"Buyers are not just reading machines," said Tom Erben, CEO of the Aufbau publishing group. "They're people who enjoy appreciating books with all their senses."
Even so, he recognizes that even an old-fashioned book has its charm. "Who can resist the sound of an antique book's pages rustling?" he admitted.