Former British Prime Minister Tony Blair appeared Friday before a special inquiry into the Iraq War for the second time to clarify his reasons for dragging the UK into the conflict.
Blair, who was in power at the time of the US-led invasion of Iraq in 2003, went before the Chilcot Inquiry in January last year, saying then that he had no regrets about taking the UK to war.
Blair said the 9/11 attacks on the United States had changed "the calculus of risk" about Iraq, leading to him sending 45,000 British troops to the country.
He maintained his stance that former Iraqi dictator Saddam Hussein was a threat to the international community and had to be removed or disarmed. Blair's comments at the Chilcot Inquiry last year greatly angered the families of the 179 British troops killed in Iraq.
Former UN chief weapons inspector Hans Blix later said at the inquiry that he warned Britain and the US in the weeks ahead of the 2003 invasion that their evidence that Iraq had weapons of mass destruction had become weaker.

Looking for closure
The decision to go to war was the most controversial of Blair's 10-year premiership, which came to a close in 2007.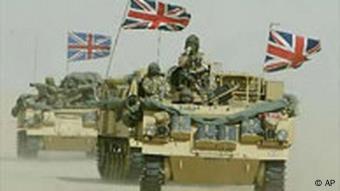 Britain has since withdrawn all troops from Iraq
The Chilcot Inquiry was ordered by Blair's successor and party colleague, Gordon Brown, in a move seen as an attempt to heal the rifts in the Labour Party that were caused by the decision to be part of the invasion of Iraq.
Former diplomats, government officials and ministers have said at the inquiry that Blair and then-US President George W. Bush had "converged" on "regime change" in Iraq, and did not allow diplomacy to run its full course prior to the invasion.
Testimony given by others, meanwhile, supported the Blair government's decision to join the Iraq War and the grounds on which that decision was made.
Author: Darren Mara (Reuters, AFP)
Editor: Nancy Isenson