Kibera is Nairobi's largest slum in which most residents live in extreme poverty.
It is here that the Umande Trust, a local NGO, is seeking to engineer a quiet revolution in green energy generation and sanitation.
The NGO has set up communal toilets to replace latrines that were overflowing because residents couldn't afford to pay for the sewage to be collected.
The human excreta from the new flushing toilets is turned into biogas. Bio system engineer Elekta Rosana told DW the waste is fed directly to a holding tank and bio-digester.
Bacteria go to work on the waste, which is filtered and converted into acid. After 21 days, methane gas collects above the surface of the waste, by then in liquid form.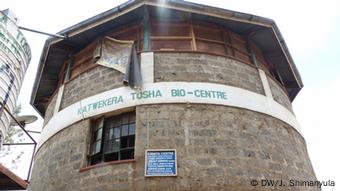 The circular 'bio-centers' house toilets, a holding tank and a bio-digester
The methane gas is pumped to communal kitchens and is also sold to local residents as fuel.
Much cheaper than charcoal
These "bio-centers" were the brainchild of Josiah Omotto, director of Umande Trust. He said there are currently 72 in Kenya and he intends to erect another 20 over the next two years.
He said a family of six spends less than $4 (3.15 euros) on biogas a month, which compares very favorably with charcoal costing as much as $100 for the same period.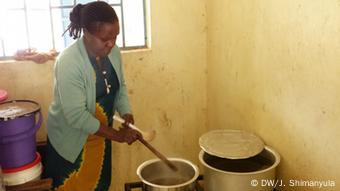 Kibera residents to DW they welcomed biogas as a cheaper, more easily available alternative to charcoal
28-year-old mother of two, Judy Vagubo told DW "Charcoal is expensive and when it rains, it becomes more expensive and less available. But biogas is available and cheap and you can get it at the biogas centers," she said.
The benefit to the local community is twofold. As well as supplying cheap energy, the centers have improved sanitation by helping to stop people from defecating out in the open.
Aidhah Binale Ibrahim, program coordinator with Umande Trust said there had been a noticeable impact on public health and some water-borne diseases "had really reduced."