Germany's Bild Zeitung deemed Bush a known quantity in Europe, and said he had a better sense than Democratic challenger John Kerry of what Washington could expect from its transatlantic partners.
"Bush knows that Europe and Germany do not have the military capacity for a significantly larger commitment of troops beyond their current deployments abroad," Bild journalist Hugo Müller-Vogg said in the editorial, echoing sentiments expressed by others as well.
"Thus he will not request a contribution," the former publisher of the respected Frankfurter Allgemeine Zeitung continued. "But Kerry would do just that -- and add a further burden to the already damaged German-American relationship," he added in what a spokesman said was likely the first US election endorsement in Bild's 51-year history.
Germany's center-left government fiercely opposed the war in Iraq and has refused to send soldiers to lighten the load on the US-led coalition.
"Bush has learned his lesson"
The conservative daily said the incumbent president now knew from his experiences in Iraq that he needed the support of a broad base of partners and would foster those alliances more than in his first term.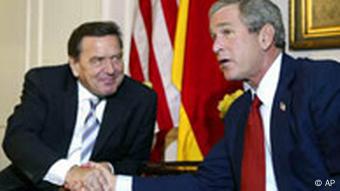 German Chancellor Gerhard Schröder and George W. Bush in Sept. 2003
"Bush has learned that America can conquer any country militarily but cannot win the peace by going it alone," he said. "That is why he will focus more on international cooperation in his second term."
The tabloid said that Kerry would wage a weaker war on terror than Bush and had done little to explain how he would lead the United States on the world stage.
"Bush has learned the lessons of history," the editorial read. "Good words do not help against violent fanatics, only military strength. With him, as opposed to Kerry, there is no waffling. With Bush, we know what to expect. No one knows what John Kerry stands for and where he wants to lead America -- and the world."
Most Germans believe in Kerry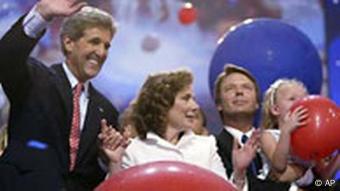 Democratic presidential nominee John Kerry with his wife, Terea and, vice presidential candidate John Edwards
The endorsement for Bush by the German daily follows an editorial Tuesday in Europe's biggest financial newspaper the Financial Times backing Kerry.
Meanwhile a poll for Stern weekly magazine to be published Thursday showed that a clear majority of Germans believe Kerry will win the Nov. 2 election.
The survey conducted Oct. 21 and 22 among 1,004 Germans found that 59 percent tipped Kerry to take the Oval Office versus 31 percent expecting a Bush victory. Ten percent did not venture a prediction.