Sony said Thursday, Feb. 28, that as part of its streamlining efforts, it would be selling the Berlin Sony Center to a group of German and US investment funds, including investment bank Morgan Stanley, Corpus Sireo and an affiliate of The John Buck Company.
The sprawling entertainment complex in the center of the German capital houses offices, stores, restaurants and a cinema and attracts over 8 million visitors a year. But the company now says it plans to focus on core business areas such as electronics.
The Sony companies located on the premises will remain tenants, and the center will keep the group's name, it said in a statement. The sale is expected to be completed by the end of next month subject to regulatory approval.
Financial loss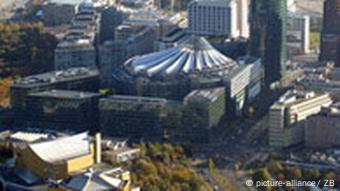 What does the future hold for Potsdamer Platz?
The move is not entirely unexpected. In 2006, the iconic Japanese company's first foreign head, Howard Stringer, announced 10,000 job cuts and plans for a swathe of asset disposals in an effort to revive its flagging fortunes.
The company did not divulge the value of the deal but said the expected profits had already been factored into its earlier forecast for a 471 percent surge in operating profit to 410 billion yen ($3.8 billion, 2.5 billion euros) in the current fiscal year to March.
Insiders say Sony will be paid less than 600 million euros for the building that originally cost the Japanese company 750 million euros in the late 1990s.
A failed vision for the capital
One of the most ambitious development projects in post-reunification Germany, the spectacular domed building designed by architect Helmut Jahn first opened in June 2000.
It was hailed as a symbol of the new, reunited Berlin. But along with other real estate on Potsdamer Platz -- such as the 19 buildings making up the Daimler "quartier," which sold to the Swedish banking group SEB last December for an estimated 1.2 billion euros -- it failed to help turn the neighborhood into the capital's new commercial district.
To many, the sale will confirm suspicions of waning confidence in the Potsdamer Platz project -- especially given that Sony was allegedly unable to find a buyer willing to pay its initial asking price of 800 million euros.