Last Christmas, Berlinale film festival director Dieter Kosslick received a book on legendary film stars. Opening it for the first time, he was rewarded with the striking image of a young, dark-haired beauty gazing at him from the glossy page – an image he was never to forget. Such was his infatuation with the enchanting young lady – French actress Anouk Aimeé – that he resolved one day to meet her.
This week, Kosslick's dream came true: Aimée is guest of honor at the Berlinale film festival.
Shielding herself from the bright winter's sunlight with a large pair of dark glasses, Aimée still has her star allure despite her 67 years of age. Elegantly removing the glasses, she flashes a small smile and says she hasn't slept well. Earlier this week, French director Daniel Toscan du Plantier died – for Aimée the death of a close friend.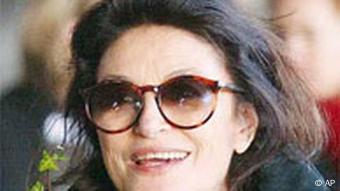 Anouk Aimee
Known for her roles in films including "La Dolce Vita" (1960) and "A Man and a Woman" (1966), Aimée has always been close to the directors she worked with. "Frederico Fellini and Claude Lelouch were my family," she says, "just like a mother and father." Both, together with Robert Altmann with whom she worked with in the film "Ready to Wear" in 1994, gave her a sense of freedom she had never experienced before. "I wasn't free, but I felt it," she says earnestly.
At the mercy of stardom
Born into a theatrical family, Aimée began training in acting and danicing as a young girl at the Bauer-Theron School in Paris. At the age of 14, she was elevated to stardom by the film "Lovers of Verona" (1949) which was especially written for her by French writer Jacques Prevert.
Since then she has been dedicated to film, starring in movies in Italy, France, Britain and the U.S. and working with European film masters Frederico Fellini, Jacques Demy and Claude Lelouch. It was in the film "La Dolce Vita", in which Aimée played the part of a nymphomaniac rich girl, starring alongside Italian heartbreaker Marcello Mastroiani, that Aimée gained her reputation as the femme fatale of classic European film.
Never alone
Aimée gladly thinks back to the days with Mastroiani. "He was my favorite actor," she recalls today, "simply the dream of a person, so funny and wonderful to work with."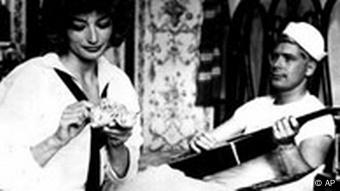 Anouk Aimee in the film "Lola"
Aimée is a woman who loves to laugh and for whom humor is one of the most important traits in life. Despite the death of director Toscan du Plantier only days ago, Aimée, who is dressed from head to toe in black, still holds her head up high. "It was a shock, and we have lost a good friend," she says. "But he is still here, all those we have lost are still with us."
Looking back at her life with the stars of 20th century European cinema, she says she has had a wonderful life, and does not regret a thing. "There is not one day when I have regretted being myself. Indeed, I am lucky to be Anouk Aimée, and I like my life the way it is."
More movies
For the future, Aimée plans making more films. Recently she starred in a German television feature, playing the part of Napoleon's mother. This role was, however, an exception: Aimée has never starred in a German film before. "Why? Well, I would be so happy to do so," she says with a radiant laugh. "But no German filmmaker has ever asked me!"
Anouk Aimée received a Golden Bear for her lifetime achievement at the International Film Festival in Berlin on February 13.