Berlin began its commemoration of the 50th anniversary of the Berlin Wall this week with the unveiling of 24 large-format historic photos of the Wall across the city.
Berlin Mayor Klaus Wowereit unveiled the first photo on Tuesday, calling the day construction on the Wall began a "day of disgrace and a day of mourning."
"Many lost their lives, families and friendships were torn apart, jobs were forcibly ended," he said.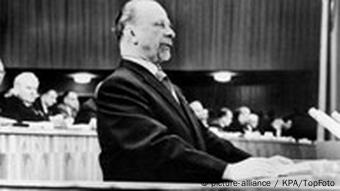 Walter Ulbricht famously said, 'No one has the intention of building a wall'
Wednesday marked the anniversary of an infamous press conference by Walter Ulbricht, the leader of communist East Germany. On June 15, 1961, he told reporters in East Berlin, "No one has the intention of building a wall." His words came to symbolize the transparent lies and deception of the German Democratic Republic (GDR).
In a ceremony in Berlin marking the day Ulbricht's statement was made, German Finance Minister Wolfgang Schäuble said, "It's not without reason that the credibility of politicians is a constant topic of discussion for us today."
Schäuble was joined by Interior Minister Peter Friedrich, who added that the most important lesson to be learned from the GDR and the Berlin Wall was that "a state that considers itself more important than its citizens is a danger to freedom."
Remembering the wall
In the coming months, the German capital is planning exhibitions, public forums and art projects to remember the history of how the city was torn in two. The events are being coordinated by the Berlin Culture Project and the Berlin Wall Institute.
Just less than two months after Ulbricht promised that no wall was being considered, the government in the East closed the border to the capitalist West and began construction on the Berlin Wall on August 13, 1961. The government said it was to protect its citizens from the "fascist" West.
The massive construction grew to a length of 155 kilometers (96 miles) around West Berlin. As time went on, the GDR government built up fortifications to prevent people from defecting. Historians count 136 people who died trying to cross over the wall.
Under increasing pressure from the pro-democracy movement in the East, the GDR reopened the border to the West on November 9, 1989, and people from both sides began to tear down the Wall. There are now very few places in Berlin where remains of the original Wall are still visible.
Author: Andrew Bowen, Matt Zuvela (EPD, dapd, dpa)
Editor: Michael Lawton