The adventures of comic-strip characters Asterix and Obelix, two Gallic friends who like to mess with the Romans, started in a small apartment in Paris 50 years ago. Writer Rene Goscinny and illustrator Albert Uderzo created Asterix as a smart, if relatively short, anti-hero.
The first Asterix story was published in the French weekly "Pilote" on October 29, 1959. The first full book "Asterix the Gaul," which was released two years later, only had an initial print run of 6,000 copies. But by 1967, "Asterix and the Normans" already sold more than a million books.
Newest edition released
"Asterix and Obelix's Birthday: The Golden Book" - the 34th book on Asterix and his friends - is the newest adventure, released Thursday in 15 countries in honor of the anniversary.
In 1977, it didn't look so good for the small village in Gaul: The series almost came to an end when Goscinny died at the age of 51. He had been the inventor of Asterix's famous catchphrases - such as "These Romans are crazy."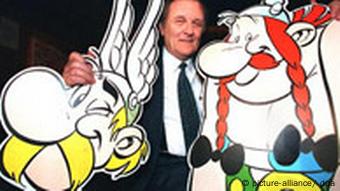 Uderzo took on both writing and illustrating
But illustrator Albert Uderzo decided to carry on alone, doing both the pictures and the text, and the Asterix series continued its success.
The Asterix hype peaked in 2001 when the book "Asterix and the Actress" started with an initial print run of eight million copies in Europe.
The future of Asterix
Uderzo, now 82, has chosen two men to carry on the Asterix series once he retires. Frederic and Thierry Mebarki already draw Asterix in merchandising spinoffs for Uderzo's publishing house. They will continue the series - but still need to find a writer.
This month's anniversary is widely recognized in France: Asterix gets his own postal stamp and the French air force is producing a video in which airplanes will draw an Asterix head in the sky. Paris will also organize a parade themed "The Gauls invade Lutetia" and a series of events will take place in the region of Brittany, where several villages claim to be Asterix' home.
The Asterix tales have been sold 325 million copies world wide - 200 million of them abroad. In Germany, the initial print run for the newest edition is 1.5 million - that's more than in France (1.1 million).
Asterix has been translated into 170 languages and dialects. In Germany, the Ehapa publishing house published over 60 editions in different dialects, including those from Bavaria, Hesse and Cologne.
sst/afp/epd
Editor: Kate Bowen