Beards and moustaches are doubtless forms of personal expression, but Elmar Weisser from Baden, winner in the "full beard freestyle" competition, went one further and made a patriotic statement. His beard was intricately styled into an convincing representation of Berlin's famous Brandenburg Gate, accessorized with tiny German flags.
Weisser was just one of 14 German contestants who prevailed in a total of 17 beard and moustache categories, which included musketeer, wild west, imperial Austrian, English and Dali.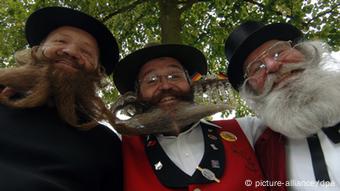 Some 220 contestants from all over the world gathered in Berlin for the biannual event -- men with Fu Manchu moustaches, flowing Santa Claus beards and gravity-defying sideburns.
Contestants were permitted to use hair gels, waxes and sprays to achieve their look, except in the natural moustache category, Jürgen Draheim, the deputy president of Berlin's beard club, said.
The dominance of the German contestants could be due to their home advantage -- this was the first time the championships have been held in Germany, which boasts 15 beard clubs.
The next world beard and moustache championships will take place in the British seaside city of Brighton in 2007.