In the Latvian capital Riga more than 1,000 people rallied, waving Georgian and Latvian flags and carrying white roses.
Demonstrators walked from the landmark Freedom Monument to the Russian embassy. There, yelling "aggressors" and "occupiers," they called on Russia to halt its military action in the breakaway Georgian region of South Ossetia.
The group also proceeded to the Georgian embassy, where people cheered and shouted slogans supporting Georgia.
Lawmaker Sandra Kalniete from the opposition Civic Union said she was glad to see so many people turn up, seeing it as a sign that "we have not forgotten anything" about events in Latvia in 1991 when the country broke away from the former Soviet Union.
"Today, it's Georgia, tomorrow it's Ukraine, the day after tomorrow it's Latvia," a woman named Iveta told DPA news agency.
Conflicts have been raging in parts of Georgia since Friday, Aug. 8, when Russian troops engaged Georgian forces in South Ossetia after the later sent a large force into the separatist region to "restore constitutional order," the head of Georgian forces in South Ossetia told BBC.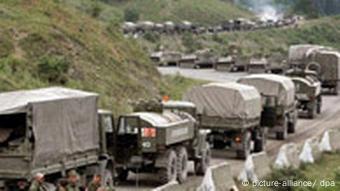 Russian troops moved into South Ossetia in heavy numbers
After gaining control of the region's capital, Tskhinvali, Russian forces launched bombing raids Sunday near Tbilisi, the capital of Georgia proper.
In tandem with the conflict in South Ossetia, local forces in Abkhazia, a second separatist region in Georgia, began mobilization Monday to force Georgian troops from its borders. Russia simultaneously deployed thousands of its own troops in Abkhazia which have launched a move deep into Georgia proper.
Baltic parliaments join condemnation of Russia
In Tallinn, more than 300 people peacefully gathered in the Estonian capital carrying Georgian flags to oppose the Russian incursion. Estonia's parliament was to meet Monday for an extraordinary session to condemn Russian military action in Georgia.
On the Web site of the Estonian parliament, the presidents of parliaments of the Baltic states issued a joint statement saying they were watching events unfold in Georgia "with deep concern and anxiety."
"Russia's aggression against Georgia must be stopped, with the help of coordinated actions of the international community, immediately before all Georgian infrastructure and economy is destroyed which would bring about humanitarian catastrophe with long-term consequences in the entire region," the statement said.
"Justification of Russia's actions in Georgia by the need to protect its citizens is unacceptable. Alleged reasons for taking up a war against Georgia raise concerns about the future in every state with Russian citizens living on its territory."
More than 50 people also protested outside the Russian embassy in Vilnius, Lithuania, with more protests expected late Monday and Tuesday.
Like Georgia, the three Baltic states broke free from the former Soviet Union in 1991, defying a possible invasion by Soviet forces.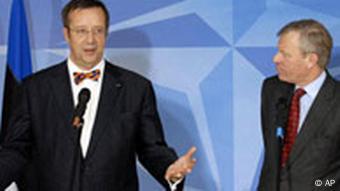 Estonian leader Toomas Ilves, left, says Caucasus war will reshape attitudes towards Russia
In response to comments made earlier in the day by Estonian President Toomas Ilves, who said the Russian attacks against Georgia would cause a revaluation of Russia-EU relations, Russia's ambassador to Latvia warned the Baltic states that they would pay for their criticism of the Kremlin over the conflict in Georgia, the Baltic news agency BNS reported.
"One must not hurry on such serious issues, as serious mistakes can be made that have to be paid for a long time afterwards," Alexander Veshnyakov was quoted as saying by BNS.