This year's Preis der Nationalgalerie (National Gallery Prize), Germany's most prestigious contemporary art award, went to the artist Sandra Mujinga, who lives in Berlin and Oslo.
The jury decided on Mujinga, who was born in the Democratic Republic of Congo, "after intensive discussions," they said at the award ceremony held on Thursday at the Hamburger Bahnhof, a museum for contemporary art in Berlin.
The artist's work features ghostly-looking figures made of interwoven lengths of fabric that seem to float through the Hamburger Bahnhof exhibition spaces. Mujinga shows "great sensitivity for the materials used," the jury said.
From a 'past future'
Mujinga succeeds in uniting contradictory experiences in her figures, the jury argued, creating "an openness that creates space for one's own imagination."
The jury of the German contemporary art prize said the sculptures give the impression of being from a past future. "They remind us that we must be considerate of other creatures for our survival and can learn strategies from them to adapt to an ever-changing environment," the jury wrote.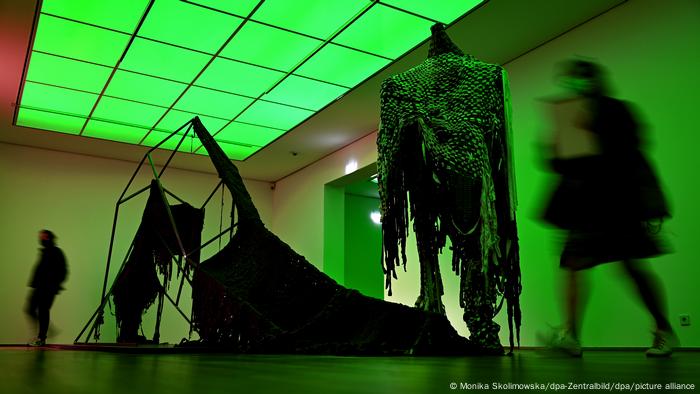 Mujinga's artworks, described by the jury as 'arrangements for transient worlds'
Mujinga's work, along with works by the other nominees, is on display at Hamburger Bahnhof until February 27.
Solo exhibition next year
The prize has been awarded every two years since 2000 to contemporary artists under the age of 40 who reflect the internationality of the art scene in Germany.
There is no prize money, but since 2013, the works of the prize winner are presented in a solo exhibition at Hamburger Bahnhof the following year.
Previous award winners include Anne Imhof and Monica Bonvicini. The "award recipients and nominees have since been among the defining protagonists of contemporary art," the award website says.
This article was translated from German.
db/eg (dpa)