Austrian police have arrested a man suspected of sexually abusing his two daughters for more than 40 years between 1970 and March 2011.
The now 80-year old man allegedly kept the two women locked up in a small room with only a narrow wooden bench to sleep on.
"The accused repeatedly threatened to kill them and threatened them with weapons," the local police department said in a statement.
He also prevented them from having "any social contact" outside the home.
The victims are now 53 and 45 years old and according to media reports are mentally disabled. The mother who died in 2008 was also regularly abused by her husband.
Too intimidated to flee
"They were evidently locked up in their own house, hardly ventured out into the open," police chief Alois Lissl told Austrian television.
"They received (outside) care but were apparently so intimidated that they kept quiet about these acts their entire life."
The case came to the attention of the authorities when the women escaped after the father tried to rape the elder daughter and was pushed back.
He fell and injured himself so he could not get up anymore. The two women refused to help him but called a social worker instead, who then reported the abuse to the authorities.
The man was arrested on suspicion of assault, duress, rape, abuse and neglect of minors or defenseless persons among other offences. The suspect is in hospital and denies all charges.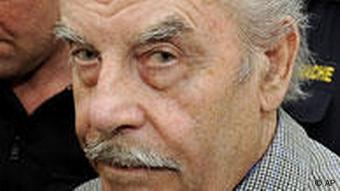 In an earlier incest case in Austria, Josef Fritzl held abused his daughter for 24 years
Reminiscent of Fritzl case
The allegations eerily evoke the case of an earlier Austrian incest case. Josef Fritzl imprisoned his daughter in a cellar prison for 24 years, repeatedly raped her and fathered seven children with her - one of whom died.
He was found to have caused the death of the newborn by failing to seek medical help despite knowing the child was in danger of dying.
In March 2009, Fritzl was found unanimously guilty of murder through negligence, incest, rape, enslavement, coercion, and forced imprisonment.
He was sentenced to life imprisonment.
Author: Andreas Illmer (AP, AFP, Reuters)
Editor: Rob Turner