Syria was expected to respond on Monday to a plan put forward by the Arab League aimed at settling unrest in the country.
Arab foreign ministers met in the Qatari capital, Doha, on Sunday with Syrian Foreign Minister Walid al-Moallem in attendance. "The meeting was serious and straightforward," Qatari Prime Minister Hamad bin Jassim al-Thani, who headed the meeting, told reporters.
Jassim, who also serves as foreign minister, declined to disclose the content of the plan but said it was serious about "ending all acts of violence and killings" in the country.
He said that Damascus was aware that it needed to act "seriously and swifly."
"We reached a working paper tackling all issues. The Syrian delegation asked to give a reply tomorrow (Monday) after discussing the paper with the Syrian leadership," said Jassim.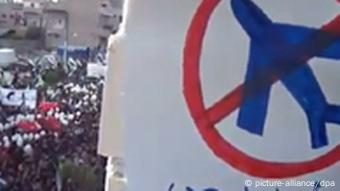 Syrian protesters are now calling for a no-fly zone like that in Libya
A meeting of the Arab League is expected to take place in Cairo on Wednesday.
Syrian President Bashar al-Assad told a Russian newspaper on Sunday that he was prepared to talk to opposition parties. "We will cooperate with all political powers, both those who existed before the crisis and those who arose during it."
Regional fault lines
However, he had previously warned the West that it would foment an "earthquake" if it intervened in his country's affairs. Assad said such a maneuver would also risk fanning the flames of anti-Western fervor in the wider region.
In an interview with Britain's Sunday Telegraph newspaper, Assad warned of "another Afghanistan" if foreign forces engaged in the seven-month-long civil unrest and resultant government crackdown on dissent in Syria.
"Syria is the hub now in this region," the paper quoted Assad as telling one of its journalists in Damascus.
"It is the fault line, and if you play with the ground you will cause an earthquake - do you want to see another Afghanistan, or 10 Afghanistans?
"Any problem in Syria will burn the whole region. If the plan is to divide Syria, that is [sic] to divide the whole region."
Calls for a no-fly zone
Demonstrators demanding greater freedoms and an end to the Assad regime have most recently taken to the streets calling on the United Nations to impose a no-fly zone over their country, as it did over Libya.
The Arab League is to meet again in Cairo on Wednesday
Assad's comments came amid reports that at least 20 soldiers were killed in clashes with army dissenters late Saturday in the hotbed city of Homs. More than 50 people were said to have been injured in the fighting.
On Friday, 37 people were believed to have been killed in clashes in Homs and the governorate of Hama. The Syrian Observatory for Human Rights said the deaths occurred when forces pounded the area with heavy machine gun fire.
Homs has risen as one of the focal points of opposition to Assad's 11-year reign. His father, Hafez, had ruled Syria for 29 years until his death.
More than 3,000 people, including at least 187 children, have been killed in the government crackdown, according to UN estimates.
Assad has repeatedly said he was using legitimate means to confront foreign-backed militants bent on fomenting sectarian strife.
Author: Darren Mara, Richard Connor (AFP, Reuters)
Editor: Andreas Illmer