DW: Before your trip to Doha you criticized the fact that, up to now, there's been a "lack of political willpower" everywhere you look. Now that you're in Doha, have you discovered any?
Peter Altmaier: No, at this point I don't have any reason to revise my assessment. There are talks at all levels about moving forward with the documents at the very least, but at this point there hasn't been a breakthrough.
One particularly stubborn country is Poland. Poland has refused to agree to the EU's higher goal of reducing emissions by 30 percent instead of 20 percent by the year 2020. You said that "We, as Europeans, are able to affirm 30 percent without Poland." How does that statement look now?
We're in very sensitive state of negotiations right now, which is why I can't give any details as to possible solutions without putting those solutions at risk. That said, we'd like to ensure that the EU is substantially more ambitious in protecting the climate than it has been before. We've almost achieved the 20 percent levels we agreed to, and that's why we need a new goal for the next eight years. How we achieve that and when we achieve that, is something that hasn't been pinned down yet.
You've criticized the tempo of international climate action as "absolutely inadequate." But isn't it impossible to achieve something adequate with 194 countries involved?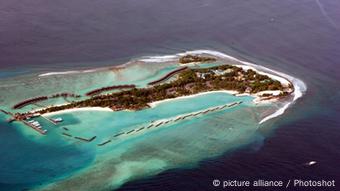 Small island countries are threatened by rising sea levels
It will definitely become more difficult as the years go on. The cost of putting on a conference like this is very high and it doesn't always make up for itself in terms of earnings. That's why we need a new structure for discussions and a new way of making decisions. I've already proposed a few things with the group of renewable energy countries. I also think we could get stronger by grouping states into units - states that beforehand could agree on how they intend to answer certain questions - so that not every country would have to send one of its dignitaries, but could still safeguard its interests.
Which opportunities do you see for climate protection when it comes to the G8 group of the largest industrial nations, or the G20, or even the Major Economies Forum that was initiated by the US?
I believe that climate protection generally has to be more strongly recognized on an international scale. It belongs on the agenda of every international body - the G8 as well as the G20
Should those negotiations happen within the framework of climate conventions as hosted by the UN, or beyond the framework of such conventions?
That's something that will have to be discussed.
The new alliance of countries that you helped build - countries that are now pursuing a new set of energy and policy priorities on their own domestic fronts - doesn't that represent a shift in emphasis away from the UN climate conferences?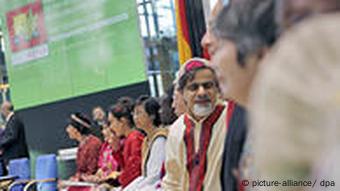 IRENA was founded in 2009 in Bonn, Germany
When it comes to renewable energies, the fact is that there just isn't a reasonable UN framework. With the International Renewable Energy Agency (IRENA) we have a body that's making real progress. But we need real political willpower to promote energy change at a worldwide level. And that can only happen when a group of countries leads the way.
You've lamented the fact that, throughout the Doha conference, sea levels continue to rise. Can it be said that sea levels will drop one millimeter as a result of these talks at Doha?
That would be desirable, but I'm not convinced yet.
Peter Altmaier is the German federal minister for the environment, nature conservation and nuclear safety.