This year, the political signal is clear and intentional with the conferral of the German Book Trade Peace Prize. The selection of Algerian author Boualem Sansal "is a symbol of support for democratic movements in North Africa," Gottfried Honnefelder, head of the German Publishers and Booksellers Association, said when Sansal was named the award's winner in June.
Sansal received the award during a ceremony attended by several hundred guests at St. Paul's Church in Frankfurt on Sunday, the last day of the annual Frankfurt Book Fair.
'Global revolution'
In his acceptance speech, Sansal said the prize showed "that you are interested in our struggle to free ourselves from evil and archaic dictatorships."
The author said that a "global revolution" was occurring, and that people wanted "genuine, universal democracy."
He said they were "rejecting dictatorships, extremism, the power of the markets, the suffocating grasp of religion."
'Irrepressible storyteller'
Swiss literature expert Peter von Matt said in his commendation that Sansal was both "an irrepressible storyteller" and "unrelenting in his condemnation of the greed of the powerful."
He said the jury had chosen Sansal because he was one of the few remaining intellectuals in Algeria to "openly criticize the political and social situation."

Sansal's work has been banned in his home country for its political themes, although the author is considered Algeria's most internationally acclaimed writer.
Sansal's vision
German Foreign Minister Guido Westerwelle has congratulated Sansal on the honor.
In a statement, Westerwelle said the award was not just for Sansal's literary achievements, but also for "his efforts towards peaceful and democratic change in Algeria."
"At a time of great change in the Arab world, I hope that Boualem Sansal's vision of a free and democratic society in Algeria becomes reality," Westerwelle added.

Breaking taboos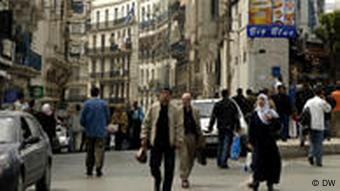 Sansal has expressed concern about fundamentalism in Algeria
Sansal became known to German readers by way of his 2009 novel, "Das Dorf des Deutschen," published in the US as "The German Mujahid" and in the UK as "An Unfinished Business." It tells the story of a German Nazi who goes into hiding after the war as a member of the Algerian forces fighting for independence from France.

Originally written in French, "The German Mujahid" is considered the first Arabic novel about the Holocaust - a topic that is still taboo in Algeria. The book was honored with multiple international prizes and translations but was banned in the author's home country.

Boualem Sansal was born October 15, 1949 in the Algerian mountain village of Teniet el-Had. He grew up in a working-class neighborhood in Algiers and later studied industrial economics before moving into high-ranking positions with the government.

Alongside his appointments in Algeria's Board of Trade in 1992 and the Department of Industry and Restructuring in 1996, he began writing. His first novel, "Le serment des barbares," was published in 1999 and brought him immediately into conflict with the state.

Initially, Sansal was put on leave from his position, but he was blocked completely from government work following two further publications in which he criticized political circumstances in Algeria.

Censored but not silenced

In 2006, the author issued a letter and appeal to fellow Algerians, demanding a "true democracy" in which the "vision of an enlightened, worldly citizenry could take shape."

The bold letter proved to be the last straw for the Algerian state, which banned all of Sansal's books.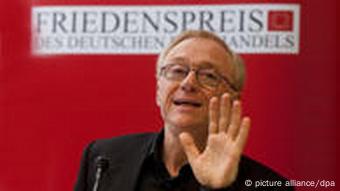 Author David Grossman won the peace prize in 2010
Sansal has also been active in German media outlets, explaining the political situation North Africa to German audiences. One of his major concerns is the future of the protest movement.

In the German daily Die Welt, Sansal posed questions about whether groups including Islamists, Christians, democrats, the unemployed and others would succeed in "holding a dialogue and realizing a joint project? Or will they start a war to see who's capable of seeing their own project through?"

Respect at home

The fact that Sansal has remained in Algeria as a political activist despite the bans on his books has earned him enormous respect from his supporters at home. His commitment is also part of what earned him one of Germany's highest cultural honors. The literature peace prize carries explicitly political dimensions and has been awarded since 1950 to figures from culture, politics and the sciences who actively promote the cause of peace.

Last year, the annual prize worth 25,000 euros (36,500 dollars) went to Israeli author David Grossman. The list of previous winners also includes Spanish author Jorge Semprun, who died on June 7.

Author: Silke Bartlick / gsw
Editor: Kate Bowen