Lars Eller and Devante Smith-Pelly scored third period goals within the space of less than three minutes on Thursday night to lead the Washington Capitals to a come-from-behind win over the Vegas Golden Knights and their first Stanley Cup title in their 44-year history.
The title is also the first for the Capitals' captain and superstar, Alexander Ovechkin (picture above). The Russian had, until this win, been seen by many critics as lacking, having never hoisted Lord Stanley's Cup despite his impressive personal statistics.
"It means everything. I think this moment, we waiting a long, long time," the 32-year-old left winger said. "This organization wanted it so bad. It's nice to be part of it. It's nice to be in this organization all 13, 14 years, whatever. It just was a joy. Was tough time, but we fight through it and we get results."
Ovechkin, who scored his 15th goal of the playoffs in Game 5, also received the Conn Smythe award as the most valuable player of the postseason.
The Capitals, who entered the National Hockey League (NHL) as an expansion team in 1974, ended the Knights fairy-tale season, as they became the first team to reach the finals in their inaugural campaign since the St Louis Blues did so in 1967-68.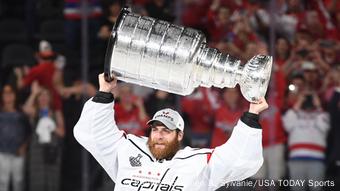 Washington goalie Braden Holtby hosts the Cup
Read more: How the Vegas Golden Knights made NHL history
"It is amazing," said Capitals goaltender Braden Holtby, who finished with 28 saves. "We have a lot of different personalities on this team but we meshed like crazy."
Winning coach out of contract
Capitals coach Barry Trotz, who's contract expires with the end of the season, said they had the right combination of skill, toughness and desire to get the job done.
"You can get pushed out of a series if you have skill and you don't have the will," said Trotz. "You got to have the heart and will first and once that base is there the skill comes out.
The Caps' win also means the Philipp Grubauer, who started the first two games of this year's playoffs in goal, has become just the fourth German to win the Stanley Cup, after Uwe Krupp, Dennis Seidenberg and Tom Kühnhackl.
pfd/ (AFP, dpa)