According to family members, Alcides Ghiggia died after cardiac arrest on Thursday at his home in the town of Las Piedras, north of Uruguay's capital Montevideo. He passed away 65 years to the day after his most famous goal, the strike that decided the 1950 World Cup - stunning tournament hosts and favorites Brazil at the Maracana stadium in Rio de Janeiro.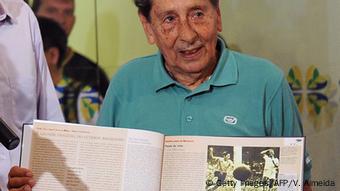 Ghiggia also had Italian citizenship, later playing for Roma, AC Milan, and even Italy
The World Cup took a rather different format at the time, functioning as a round robin; Brazil went into their last game only needing a draw to secure the trophy. Legend has it that first editions of Brazil's papers had been printed assuming triumph.
Brazil took the lead early in the second half, but Uruguay equalized after 66 minutes. With just 11 minutes left to play, Ghiggia broke down the right wing to score what proved the winner. The 200,000-strong crowd fell almost silent for the remainder of the game, until Uruguay's traveling fans erupted with glee at the final whistle.
Speaking about the goal on Brazilian TV, Ghiggia once famously said: "Only three men have ever silenced the Maracana - the Pope, Frank Sinatra, and me!"
The defeat is known to this day in Brazil as the "Maracanazo," considered something approaching a national tragedy. Ghiggia also frequently discussed his sympathy for Brazilian goalie Moacir Barbosa, often vilified for failing to stop the decisive strike.
"Goalkeepers are always under-appreciated," Ghiggia told the BBC in 2010. "You can play well the whole match, but you let in a goal and they blame you. My marker didn't stop me, why didn't they blame him? Barbosa died [in 2000] with the ingratitude of the Brazilian people."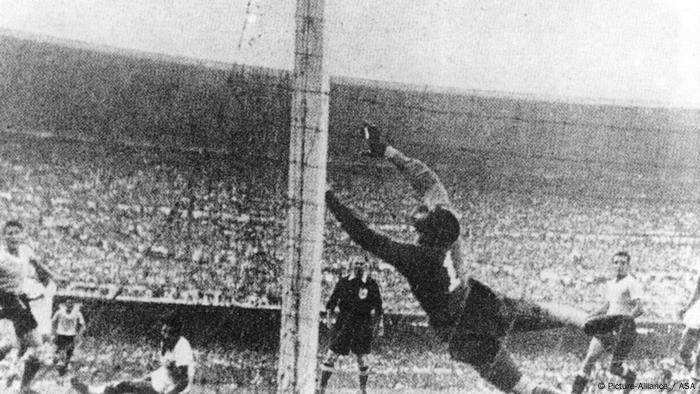 Moacir Barbosa became a scapegoat for letting in Ghiggia's winner, and for failing to stop this Uruguayan equalizer
Ghiggia began his career with Uruguayan giants Penarol in 1948, but his World Cup stardom two years later helped propel him to Europe. He moved to AS Roma and then on to AC Milan, even representing the Italian national team later in his career - a switch enabled by his ancestry and the less detailed regulations on international eligibility in the sport at the time.
The 1950 victory was Uruguay's second and last in the World Cup, 20 years after the country won the inaugural 1930 tournament.
msh/ksb (AFP, dpa)