The Red Cross fears unrest is spreading amongst Pakistanis who are angry that aid isn't reaching them quickly enough. As floodwaters begin to recede and millions of Pakistanis fight to survive, the international aid organization has launched a fresh appeal for donations.
"What we are detecting is a very worrying trend of areas where people are so in need, so resentful of not getting enough aid, that they turn understandably aggressive," said Jacques de Maio, the head of operations for South Asia at the International Committee of the Red Cross (ICRC). "This is bad because it doesn't help in our efforts to reach more of them."
In addition, the ICRC warns that Islamist militants are whipping up resentment against foreign aid convoys. "There have been clear voices saying that foreigners are not welcome, that the aid is ineffective," de Maio claimed, referring to statements by al Qaeda-backed Taliban militants.
The Red Cross has had to halt two aid distributions recently due to te unrest, further hampering the relief effort. A convoy in the Punjab province was forced to stop handing out supplies and retreat hastily earlier this week. The Red Cross, whose convoys travel without armed escorts, is carefully monitoring the safety of its aid teams.
Marathon aid effort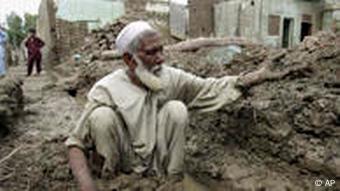 Some flood survivors have lost everything
Around 18 million Pakistanis have been affected by the floods, according to the United Nations. Eight million of those affected depend on aid in order to survive.
The scale of the disaster is so large that a month after the deluge, many people are complaining of going without food or water for days. "It's one of the biggest humanitarian catastrophes of the last decade," said de Maio. "We are not in for a sprint, we're here for a marathon."
De Maio says the Red Cross is focusing on delivering as much aid to as many people as possible but that needs still far outstrip supplies. The ICRC says it has provided food, drinking water, medicine, tents and other goods to 350,000 people. They would like to reach at least an additional one million flood victims in the next six weeks, and need another 60 million euros ($80 million) in donations to be able to do so.
As well as providing food, water and temporary shelter, the Red Cross is trying to stop the spread of diarrhea and malaria. In the worst hit areas, the organization hopes to rebuild water supply systems and health care facilities.
The Red Cross also plans to hand out seeds and farming equipment to 300,000 people who have lost everything. It hopes these measures will allow people to rebuild their lives once the floodwaters subside.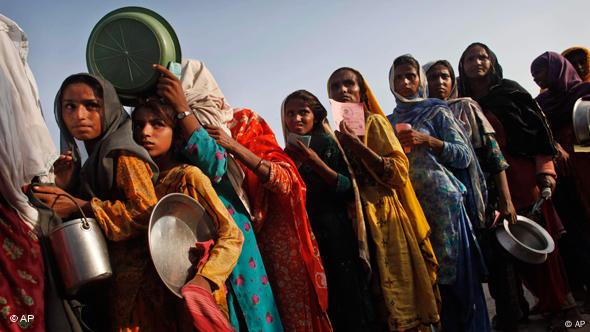 Pakistani women and children wait to be given a fresh meal
Washed up mines wound flood victims
As the floods begin to recede, new dangers have emerged. Land mines, dislodged by the floodwaters and carried to areas previously thought to be safe, have severely injured at least five people according to the ICRC.
In one instance, a woman's leg was blown off after she stepped on a mine while collecting firewood in an area she used to visit before the flood.
In another incident, a refugee in Kashmir was hurt by a mine while cutting grass to feed his cattle. "This incident occurred in the area which is far away from places where incidents have been reported in the past," said Luiza Khazhgerieva, an ICRC official.
The Red Cross and the Red Crescent are stepping up efforts to warn Pakistanis of this danger.
Author: Natalia Dannenberg (AFP, DPA, Reuters)
Editor: Martin Kuebler