Swiss police imposed tight security at Saturday's Zurich techno Street Parade, which drew an estimated 800,000 revelers, following a deadly stampede at Germany's famous Love Parade techno party last month.
Additional security measures at the Zurich event included ensuring obstacles were cleared from streets and parade floats were banned from using certain special effects such as foam cannons or dry ice machines.
Swiss media reports said extra security staff had been hired to protect the floats and revelers.
Measures to prevent repeat of German stampede
The new rules were aimed at preventing a repeat of the panic that led to a stampede when participants crowded into an underpass on the way to the entrance of the Love Parade in the western German city of Duisburg last month.
21 people were killed in the accident, many of them suffocated, and more than 300 were injured, making it one of the deadliest public events in Germany in recent years.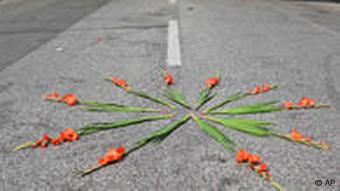 Mourners in Zurich observed a minute of silence for Love Parade victims
The incident raised accusations of negligence against event organizers, politicians and the police.
At the Zurich festival, fans took part in a street parade accompanied by booming electronic music, early in the afternoon - following some 30 floats through the streets of Switzerland's economic center.
Organizers stopped the floats and turned the music off at precisely 5 pm local time and revelers observed a moment of silence to remember those killed at Germany's Love Parade.
DJs later played music at seven separate stages on the shores of Lake Zurich. Police reported late on Saturday that the event had been generally calm.
The parade has been held every year in the city since it first began in 1992.
Richard Connor (dpa/AFP/AP)
Editor: Sonia Phalnikar