It is lunch time in Zomba, Malawi's former capital city. Maxim Goecke joins his Malawian colleagues in a small kitchen and together they start preparing food.
"We normally cook 'Nsima' together here. This is maize porridge which is a staple food here and then we eat it together," Goecke said.
20-year-old Goecke from Berlin, Germany, came to Zomba, the fourth largest city in Malawi, in November last year. His ten-month stay in Malawi as a volunteer with 'Africyle' is funded by the German Volunteer Association.
Together with local staff, Goecke helps to repair and sell bikes shipped from Canada. He is motivated by the fact that he can render help to people who cannot afford or do not have any other means of transport than their feet. "In the rural areas, in villages, people walk. There are no taxis, there are no minibuses. So a bicycle makes them much more flexible," Goecke told DW.
Africycle is a charity project which came into being after its executive director, Ben Vos, a Canadian national, travelled to Malawi in 2005 and experienced at first hand the growing demand for bikes. He realized that there was a need for quality bicycles in the country to alleviate the transport challenge in rural areas.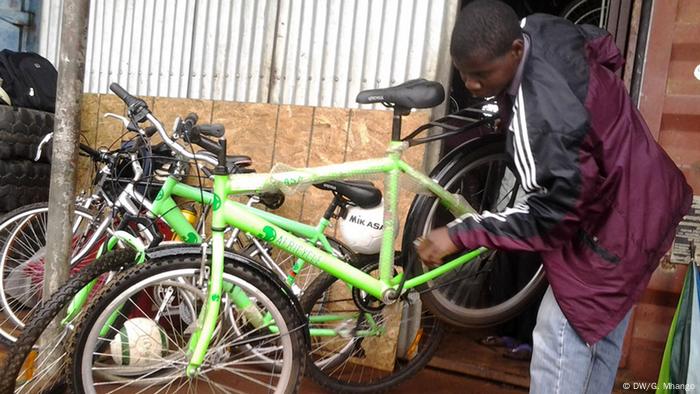 Africycle renovates and sells up to 1,500 bikes a year
Supporting local initiatives
The bicycle is a primary mode of transportation for 80 percent of people in Malawi. Vos told DW his visit to Malawi made him grab "the opportunity to take bikes that sit around in Canada and make a useful tool for families in Malawi." The process of moving bikes from Canada to Malawi, however, wasn't so easy.
"It was challenging and to tell you the truth, it is still challenging at times. There are different delays at ports, we had to work with different agencies and shippers and here in Malawi we still have problems with logistics companies but we always manage to navigate through them," he said.
Vos has now been collecting and shipping bicycles from Canada to Malawi for over seven years. About 1,000 to 1,500 bikes arrive in Malawi every year. After they reach Malawi, the bikes are first renovated before they are sold for prices ranging from $60 (53 euros) to $160.
Until 2014 Africycle was operating in just one shop in Malawi, but it has recently acquired two more. Apart from funding the operations at the shop and paying staff members, the money collected from the sale of bikes is used to support an orphanage in Zomba.
"We also donate a number of the bikes to different service organizations such as health care workers and social workers," Vos said.
A bicycle can be used to transport an entire family
A bike to reduce poverty
Currently Africycle employs about 15 local staff, who together with volunteers such as Goecke, oversee the day-to-day activities at the shop. Precious James is one of the local staff. He looks after repair work and sales.
"If you can compare them [the bikes] with those from India, these are the good ones, they don't make problems like the others. You can use one for two years without any problem," James told DW.
People from neighboring Zambia also come to Zomba to buy bicycles. Among them is Paul Mulenga from Zambikes.
"We are partners and we have got a common agenda … to alleviate poverty and reduce transportation challenges in both countries and in southern Africa," Mulenga said.
"We have challenges of transportation and a bicycle is a tool which is used to enhance mobility in different places…in Zambia we have these challenges too," Mulenga added.
Regular Africycle customer Blessings Kanache sums up what having a bicycle means to him, "if you have a bicycle you are a rich person."