Some 3,000 students cram onto a soccer pitch in Singaraja, a small town in Bali's north. Suddenly, they erupt: roaring, pumping their fists and waving banners, as the band Superman is Dead strolls on stage. The trio wear t-shirts emblazoned with the image of a backhoe tearing into fragile, blood-soaked earth and the words "Tolak Reklamasi" (Reject the Reclamation).

The Bali-bred punk rock outfit - consisting of Jerinx on drums, vocalist and guitar player Bobby Kool and bassist Eka Rock - is one of the busiest bands in Indonesia. They're always on tour. And like any decent punk group, they're fighting the establishment.

For the past five years, SID has been at the helm of Bali Forum Against Reclamation (ForBALI), an artist-led movement to save Benoa Bay, a delicate ecosystem of sea life and mangroves near the island's capital, Denpasar, in the south. The group says it's opposing a huge reclamation and development project, staking its reputation and opposing powerful vested interests.

"The police and the government tell us we cannot say this or that onstage," Jerinx told DW after the show. "We have so many enemies because of this - the investors, the government, the military, police. They are not just going to give up."

Development 'destroying' Bali


Over the past few years, Bali's south has seen an explosion in tourism and rampant overdevelopment which have brought traffic gridlock, strained infrastructure and, the band says, destruction of the area's natural beauty.

"We live in south Bali, a beautiful area being destroyed by tourism," says Jerinx. "We grew up connected to the nature and spirituality of this place. It is not beautiful now - so fake, plastic and industrial."

Still, the island's Governor I Made Mangku Pastika wants to up visitor numbers from 4.5 million to 30 million per year by 2029. The plan is to turn the island into the new Singapore, which has 37 million visitors annually. And part of that plan is a US$3 billion dollar (2.8 billion euro) project at Benoa Bay backed by major developers PT Tirta Wahana Bali International (TWBI).

According to TWBI, the scheme proposes reclaiming 700 hectares - or about 75 percent of the bay - from the sea to build a network of 12 artificial islands complete with luxury homes, resorts, malls and possibly a racetrack.


The Bali Forum Against Reclamation (ForBALI) is a movement that is committed to the preservation of Balis Benoa Bay, a vulnerable ecosystem
Development versus environment

Opponents of the scheme argue it will destroy sacred Hindu places, including temples, streams and muntig - small pieces of land exposed at low tide, where Balinese place holy offerings. They also fear it will cause beach erosion, flooding and damage habitats in an area that once held protected status. In 2014, Indonesia's former president Susilo Bambang Yudhoyono revoked that status to make way for the development.

But not everyone believes the reclamation will be an environmental disaster. "The development of Bali will use green management, responsible water and waste management and energy," says coastal scientist I Made Mangku.

Others view the project as an opportunity for both the environment and economy. Dewaing Sri Putu Gunawati, an activist who supports the scheme, claims 250,000 people will be recruited to work on construction. Bali has Indonesia's lowest unemployment rate at just 1.89 percent - or well under 100,000 people.

"We will monitor and make sure this reclamation project maintains and guards the mangrove area and the local culture. This project doesn't belong to individuals, it belongs to the Balinese," she says over drinks at her home.

Benoa community representative Made Wijaya refutes the claims of those who support the scheme. "The community, including us the leaders, are against TWBI's purpose because the reclamation area is not compatible to the size of Benoa Bay and will cause a lot of problems," she says.

Locals have reason to be skeptical of the optimistic promises. A reclamation project started in 1994 at Serangan Island, just a mile from the current proposals, also promised jobs. But the project was abandoned midway, after causing major damage to beaches and reefs.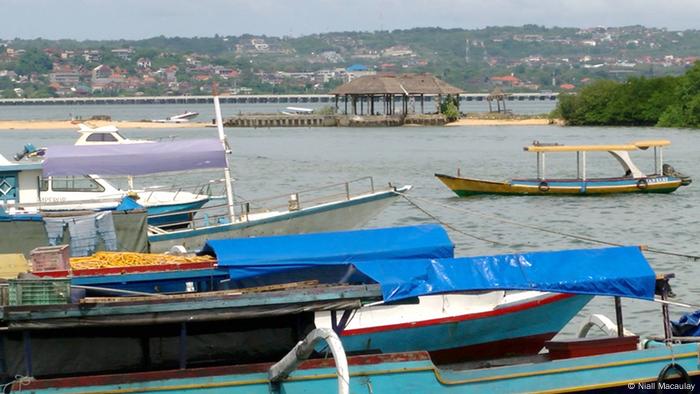 Opponents of the reclamation fear soil erosion and flooding, proponents hope for jobs and development
Raising awareness

With a young population of 250 million people, Indonesia has some of the world's most active social media users. And ForBALI and SID are tapping their online base to get the message out. The band has nearly six million Facebook followers alone.

Such is their influence, the authorities have warned them against mentioning the project, say band members. Police have detained and questioned ForBALI members. Still, they have to walk a fine line - SID fans are dedicated.

"ForBALI started with the SID fans, some activists, and grew from there," says Rudolf Dethu, writer, ForBALI activist and SID biographer. "It is just us and the kids. SID's fans are militant, so the authorities are careful not to cancel their gigs. If SID tells their fans to take action, they will."

Despite the protests, TWBI plans to press ahead with the development because no legal challenge exists. And while SID fans may embody the punk spirit of raging against the establishment, many Balinese tend to remain silent and uncritical, says Jerinx.

"If we see something wrong, we keep it to ourselves and talk about it privately, we think that is OK," he explains. But he wants people to "speak up, get up and change it."

"If we start from the small community, can we stop this reclamation?" asks Jerinx. " Yes, it is very simple."