Once the glittering center of East Berlin, most of the "Palace of the Republic's" gold-mirrored windows have disappeared, turning the building's shell into an eyesore.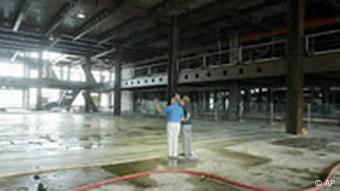 The buildin's interior will be flooded with water in September
But cultural events held inside the building have attracted thousands of people over the last months. Starting on Friday, artists will again take over the palace and open it to the public.
Some people might show up in bathing suits: Among the events planned for the three-month program is a huge artificial lake on the building's ground floor. On Sept. 3, organizers will flood the palace with 300,000 liters (79,250 gallons) of water to give people a chance to explore the raw space in a different way.
"We want to show that the element of water changes the perception of a building," Wolfgang Grillitsch, one of the organizers, told mass-circulation daily Bild. "It mirrors facades, the room looks bigger and the acoustics change."
At a depth of 25 centimeters (9.8 inches), it won't be possible to swim in the pool. Instead, people will paddle around the building in dinghies.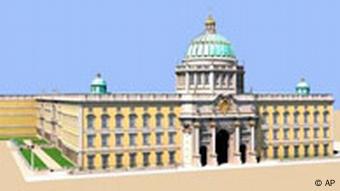 A model of the imperial palace
Once the building is demolished, a replica of the imperial palace, which stood there before, is supposed to be rebuilt. But so far funds for that project still haven't been raised.