They are one of the most popular edible aspects of German Christmas. They weigh, on average, around 100 grams each but their weight in the festive market is much more than that. In fact, they are in such demand year-in, year-out that an estimated 96.6 million of them are expected to be purchased before 2004's big day. The invasion of the chocolate Santa Claus has begun.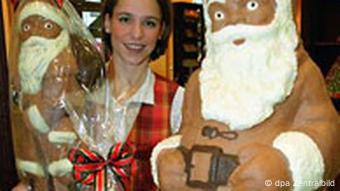 They come in all sizes
With the candy market one of the most fertile during the yuletide spell, the designers of chocolate Santas have let their imaginations run wild in a bid to reach every corner of the sweet-toothed populace.
A temptation for every persuasion
From the enticing and sultry Snow Queen, targeted at the heterosexual male with hungry eyes and stomach to match, to the anatomically blessed Saint Nick for the ladies and the finely toned same-sex Santa for those looking forward to a gay holiday, chocolate manufacturers are catering to everyone.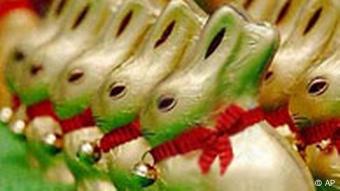 Santa's nemesis: the Easter Bunny
Despite the huge demands, Santa still continues to lose out to his buck-toothed rival, the Easter Bunny, when it comes to the battle of the so-called hollow chocolate figures.
Of all the empty treats sold throughout the year, 56 percent of those are rabbit shaped. According to Torben Erbrath from the German Sweet Industry Association, Santas suffer from the fact that Christmas offers a wider range of treats and presents while the bunny has only chocolate eggs for competition.
No recycling into rabbits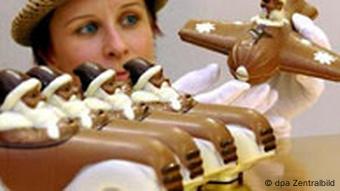 Santa likes to fly as well
Erbrath moved quickly to quell persistent rumors that unsold Santas meet an ironic fate. Many believe that chocolate Santas which are not gobbled up by New Year are remolded into the image of their fluffy-tailed nemesis ready for the shops in April.
Erbrath revealed that manufacturers only make as many as they believe can be sold and that Santas that are still left on the shelf after the festivities are over are then sold off at cut-price and not turned into rabbits.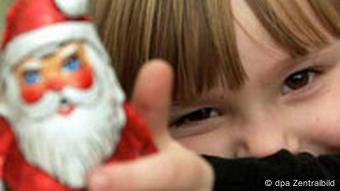 "This one's mine!"
But with such exciting diversity in the range of Santas available, it would be a surprise if any were left come the chiming of midnight on Dec. 31.