"On the one hand, I'm glad, but a little bit of melancholy will certainly be part of the equation", Merkel said about her last weeks in office. "After all, I was always happy to do my job and I'm still pleased to do it. It goes without saying that you have to continue to be alert right up until the very last day in office."
The future of Planet Earth
"After my many years of experience in the area of climate change, we have achieved progress time and again. This is the 26th Conference of the Parties after all. Nevertheless, the reports from the Intergovernmental Panel on Climate Change, the IPCC, have become increasingly alarming and perturbing," Merkel said.
Her first G8 meeting in Heiligendamm in 2007 received praise for the fact that US President George W. Bush said he considered halving the CO2 emissions of the United States of America by 2050. Merkel: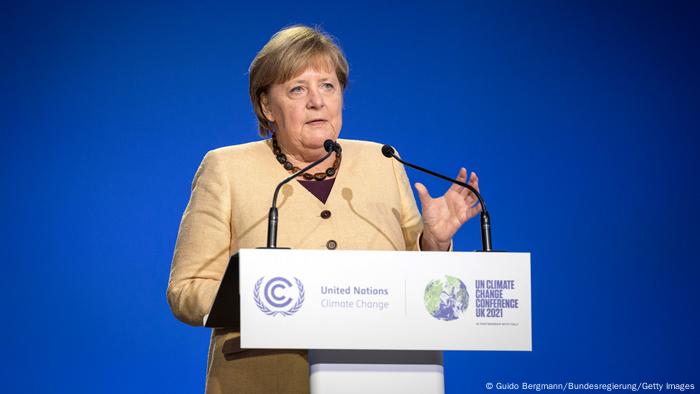 Merkel at COP26 in Glasgow, her 26th climate conference
"Today, we know that, while this was an honorable objective at the time, it's far from enough. (…) I tell young people that they need to pile on the pressure. And we must get faster. We have got faster. But never before has the gap between scientific estimates and reality widened still further. That has to change now in this decade. We have to pay heed to the scientific estimates again, and that means sticking to global warming of 1.5 degrees. Glasgow has already yielded a number of results. But this is still going too slowly from young people's understandable perspective."
Merkel: "I have always done something. I only had to acknowledge that the scientific estimates were always worse and more awful, it has to be said, than was the case in the previous [IPCC] report. We phased out black coal during my term in office and we have a roadmap for phasing out coal. But there has also been criticism that this is coming too late. We're not doing too badly in Germany compared with other countries."
Sixteen years of issue management
Personally, the most challenging events were the arrival of refugees in 2015, which "I actually do not like to call a crisis," and the coronavirus pandemic, Merkel said. These were events "where we clearly saw how people are being directly affected, where human lives hang in the balance. For me, those were the biggest challenges."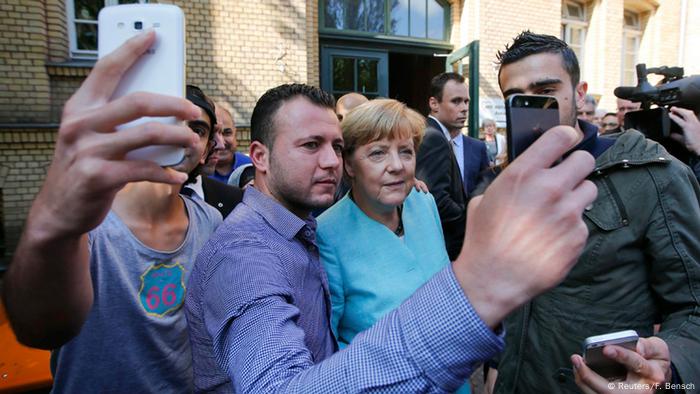 Merkel and Syrian refugees in Berlin, Germany in September 2015
"Yes, we did it," Merkel said in reference to her much-cited statement "We can do this." "But by 'we', I mean a truly large number of people in Germany who helped get it done: many mayors, many volunteers, and many who to this day are supporting those they were paired up with. We have also seen that of course not everything went exactly as it should. There were also serious incidents – for me, this brings to mind New Year's Eve in Cologne, which many of us may have bad memories of. But, overall, we have also seen beautiful examples of successful human development – I think, for example, of young men and women who have now earned their Abitur."
Merkel added: "Of course, we are not out of the woods yet when it comes to fighting the root causes of displacement and migration. We have not yet managed to give Europe a common system for addressing asylum and migration. We thus have not created a self-regulating balance between the countries of origin and those where refugees first arrive. We need to do a great deal more in the areas of development aid and legal migration. I think it's a shame that, in this day and age, human traffickers and people smugglers still practically have the upper hand. We have legal channels for migration. When, for example, the UNHCR says "take in these specific contingents of refugees", then we know that those are the ones who truly need help. We still have a lot more to do here."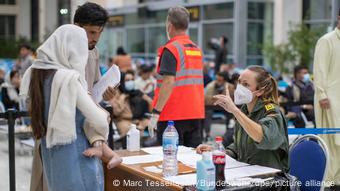 German forces personnel at Kabul Airport, August 2021
On Afghanistan Merkel said: "First of all, I want to tell the people of Afghanistan (…) that we are of course very sad about the fact that we simply did not manage to achieve what we wanted to do, namely find a self-sustaining political order in Afghanistan, one in which girls can go to school, women can fulfil their wishes, and with lasting peace. For many years, we were part of the mission there, and our servicemen and women put in their best effort. (…) Nevertheless, we simply must accept that, despite our best intentions, we did not manage to create the order we would have liked to see there – and which was set as a goal by [former Foreign Minister] Joschka Fischer already at the beginning of the century. (…) The blame for this lies not with Germany alone. The Afghans, for their part, did not get it done either. It is simply very regrettable.
We managed to evacuate lots of local staff from the country for the Federal Police and the Federal Armed Forces. Most of the helpers who are still in Afghanistan today are those who worked with us in the sphere of development aid. (…) Now we have some catch-up work to do, and we need to get as many of these people out of the country as possible. We have, after all, also helped many Afghans who did not cooperate directly with Germany, but who were active advocates of freedom and democracy in Afghanistan. Many remain there, and we will not forget about those people."
"I was also involved in something else one might call a 'crisis' – namely, the fact that many have been casting doubt on multilateralism," Merkel said. "For me, this was always an important issue. I always tried to strengthen international organizations – the IMF, the World Bank, the World Trade Organization, and others. Every year, I invited them (…) and tried to show that we need to work together in this world. It was during my tenure, following the financial crisis, that the G20 was established. In my view, it is a very important forum for making clear that we can only solve problems by working together."
Discussions with friends
"I will miss Emmanuel Macron. I will miss many of my counterparts because I very much enjoyed working with many of them, and because international politics always means, of course, that you talk a great deal with one another, that you try to walk a mile in someone else's shoes. (…) If you look at France and Germany, you have to say that we have always had very different problems, but sometimes they were the same ones. It was also from this perspective that we discussed European policy with one another. I will certainly miss these discussions."
Merkel said that the "Vive Mutti" shouts during her last visit to France were "nice to hear, of course. I'm aware that there are also people who aren't so happy with my policies."
"I think it would be wrong to say that I don't call a spade a spade also in talks with heads of government with whom we enjoy amicable relations," Merkel said. "After all, we always have German interests at heart. The others have French or other interests. We have to try to bring these interests into alignment. But we are, of course, united by a common set of values, a joint perception of democracy. (…) I always enter into such talks with an open mind. I always hope that talks can make a difference. I advocate Germany's interests. But I also advocate good bilateral relations. (…) However, I also want to say that if someone has a fundamentally different perception of the world, then you should listen to them nonetheless; after all, if we didn't listen to each other anymore, we'd no longer find any solutions."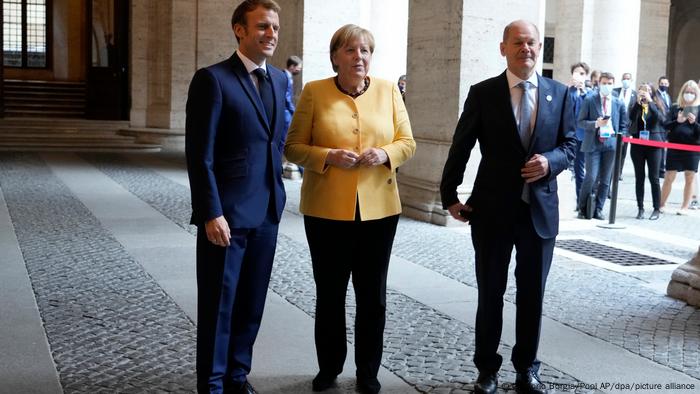 G20 in Rome, Italy: Macron, Merkel, Scholz (from left)
On including German Finance Minister Olaf Scholz in her bilateral talks at the G20 Summit in Rome Merkel said: "G20 meetings are always attended by the members' heads of government and finance ministers. Now, as luck will have it, my likely successor is the finance minister of the current government. This means he was clearly set to attend the G20 meeting. I thought it was an important signal for Olaf Scholz to be part of all bilateral discussions. (…) People are interested. If they get the impression that the current Chancellor and the likely future one have a good working relationship, then this sends a reassuring signal in a rather turbulent world. I thought it was the right thing to do."
No personal plans for the future
"Work was always a pleasure for me" and "I have always been a curious person," the chancellor said. "Reading and sleeping alternately" were her priority now. "It's simply the case that I was, for many years, very much preoccupied with the agenda that was set for me and I always had to be on standby. You have to do that as Head of Government, if something happens, so that you can always respond to it immediately. Now I'm going to look at what I'd like to do by choice. But that will become clear only in a few months from now."
The only thing that is certain is that "I won't be a troubleshooter for political conflicts. I have done that now for many years, for 16 years as Federal Chancellor, and I was pleased to do so, in the European Union and internationally. I have always been committed to multilateralism. I don't yet know what I'll do when I leave office. I've said that I first want to get a bit of rest and then see what comes to my mind," Merkel said.