Phil Schmaman is an expert in audio engineering. Initially trained as an electrician, the 54 year old works in Windhoek at Take Note Music where he's responsible for repairs, maintenance and the installment of audio equipment. This includes everything from simple CD players to complex live systems and the installment of radio studios. When he took part in the 1995 workshop he was working for the Namibian National Broadcasting Company.

What were your hoping to gain from the workshop?
To get a good background on digital audio. I knew the basics but there were areas where I was unsure - knowing how equipment would link together, for example, how they would talk to each other and knowing how the actual controlling of digital audio works. The workshop was extremely helpful.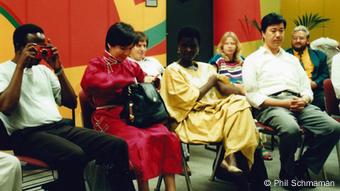 1995: Sound engineers from all over the world met for the first time in Cologne
What role did it play in your future career?
It gave me huge insight into digital audio. Part of the course involved visiting other German broadcasters as well, where I learned a lot from the discussions and different approaches. I'm still profiting from the workshop because audio has become increasingly digitized.

You mentioned that it was important to exchange ideas…
Yes. There were other technicians in the workshop and it was interesting to hear how they did – or didn't do – things. So these discussions were also helpful.

Tell us more about the others in the workshop.
I think there were 13 participants in total – and literally from all over the world. Two were from China, others came from Sri Lanka, Mongolia, Uganda, Papua New Guinea, Palestine, Zimbabwe, Nigeria, and I was from Namibia. I'm sure I've forgotten one or two because like I said, we came from everywhere!
Karl Lippe was the project manager and main instructor. He knew a lot about digital audio and built various contraptions to show us how various things worked. He had a good sense of humour, was very entertaining and kept us all wide awake! He was superb.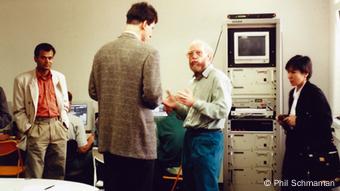 Workshop project manager und trainer, Karl Lippe (2nd from right)
Are you still in contact with them?
I briefly exchanged emails with Karl Lippe, who recently retired. He had a hard time remembering me at first because it had been 20 years and he'd had so many participants since then. I'd like to re-establish contact with some of the others as well. Email wasn't common back then and there was no facebook or other types of social media. I've been trying to locate some of the participants but haven't been successful so far.

What surprised you most about Germany?
I'd been to Europe briefly before so I had an idea of what to expect. I was surprised by the weather, though. It started off cool but then it got really hot. I remember Karl walking in one day and saying, "Yes, it does get hot in Germany!"

How is the media landscape developing in Namibia?
It's grown quite a lot. When I first arrived, there was just the Namibian Broadcasting Corporation and no private broadcasters. They started emerging around the time of independence in 1990. Still, Namibia has a small population – around two and a half million people in all – and that's not easy for private broadcasters. Many are interested in setting up a station, but they're struggling to get the money they need.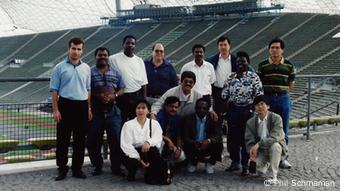 Taking a break from the studio with a visit to a German soccer stadium
DW Akademie has been working actively with community radio stations. Stations like these have great potential in small communities and towns because the major broadcasters are based in Windhoek and their reports are mainly relevant to those living in the capital. People who live elsewhere often feel left out. NBC does have some stations around the country but many just supply pre-packaged information programs for Windhoek. Other countries have the same types of problems.

What changes are needed then?
Broadcasting is about communication. People in small towns need to know what's going on in their area as well get information from the larger regions. Ideally, listeners would hear the national broadcasts, and then local stations would take over for a few hours. It would be quite easy for local stations to broadcast, say, for two hours a day. Equipment would be their main cost but volunteer staff could then come in and relay information about issues affecting the local area. I think that would be very helpful for smaller communities.

25th anniversary of German-Namibian relations: Nambia celebrates 25 years of independence this year, and there's another reason to celebrate as well: 2015 also marks the 25th anniversary of diplomatic relations between Namibia and Germany. DW Akademie has been active in the country since the 1990s, working intensively with Namibian media makers.


Workshop photos by P. Schmaman