While the host says nothing, the alleged "guests" seen in the videos are speaking all the time. DW-host Muhiuddin was edited into the videos in an effort to make it look like the DW show.
Both videos show a fake interview situation concerning the recent killing of a retired military officer by police in the Bangladeshi coastal city of Cox's Bazar. Police claimed that the officer was mistaken as a bandit. The military leadership reacted strongly after the killing and nine police officers who were involved in the incident are under investigation.
One of the fake guests is Elias Hossain, a Bangladeshi journalist living in the USA, known to be very critical of the government. The other one claims to be a retired "Major Delwar Hossain." Both are using their faked appearances to voice harsh opinions against the Bangladeshi government.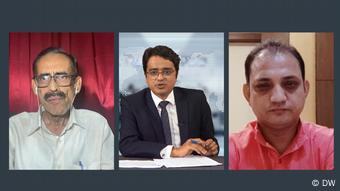 An original screenshot of the "Khaled Muhiuddin Asks" talkshow featuring real guests Raju Banerjee and Monir Ahmed.
Neither of them has ever been invited to the DW Bengali program. DW has taken appropriate action to have the videos taken down from the social media platforms, which were distributing them and has informed viewers and users of the DW Bengali language service about this incident.
All original episodes of the talk show are available on its Youtube channel.