A court in Nuremberg on Thursday rejected a regional authority application that a 20-year-old Afghan be kept in custody until June 30, pending deportation back to war-torn Afghanistan.
Instead, he walked free to be greeted outside the court by 25 fellow students and his teacher at the vocational school he had been attending, with the prospect of being offered a formal apprenticeship.
His classmates battled with police at the school when authorities picked him up for deportation, drawing renewed criticism over the government's controversial policy of deporting people back to the war-torn country. German Chancellor Angela Merkel on Thursday evening said deportations would be postponed until July.
Read: Merkel announces halt to Afghan deportations after Kabul bombing
Tumultuous scenes
Nine police officers were injured in the clashes and five people were taken into temporary custody in the ensuing scuffle, which saw police use pepper spray and dogs against some protesters hurling bottles and blocking patrol cars.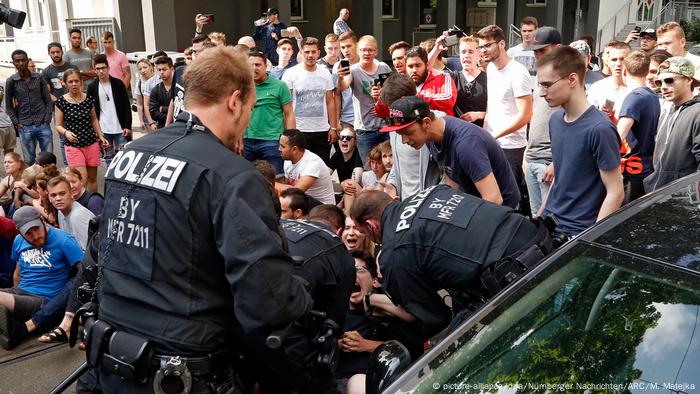 Pictures of the clashes spread quickly on social media.
The spontaneous demonstration quickly spread on social media and moved to the immigration office in the center of the city. Later demonstrations were not violent and moved to the city's Foreigners Office.
He has reportedly been in Germany for four years. According to students and teachers, he was well-integrated and had good prospects for an apprenticeship.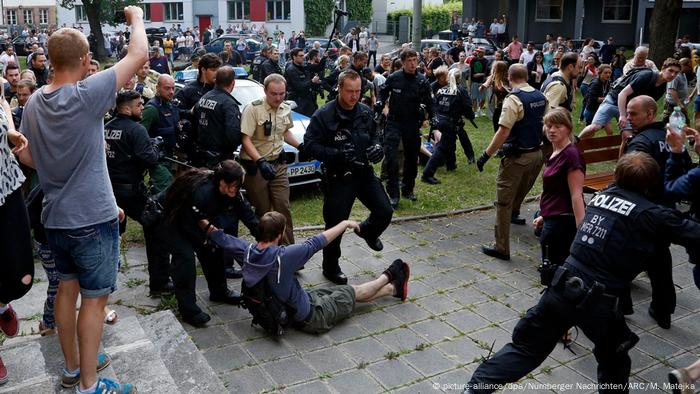 The protest prevented police from leaving the school for several hours.
The events in Nuremberg came the same day that a massive truck bomb targeted the heavily guarded diplomatic zone in the Afghan capital, damaging the German Embassy and killing nearly 90 people and wounding hundreds.
A flight scheduled for Wednesday was postponed due to the bombing in Kabul.
Migration and integration are major political issues ahead of federal elections in September.
Read: How Germany's deportation system works
The forced deportation attempt in Nuremberg drew renewed criticism from opposition politicians, churches and civil society.
"The federal government must urgently rethink its decision to deport people to Afghanistan," said Nuremberg Mayor Ulrich Maly, whose Social Democrats are the junior coalition partner with Chancellor Merkel's Christian Democrats at the federal level. "Pulling a student out of the classroom is unacceptable."
Read: Afghanistan: Sent back to a war zone
Jörg Alt from the Jesuit Order pointed his criticism directly at the Christian Social Union (CSU), the Bavarian sister party of Merkel's CDU. He said the CSU's deportation stance has "nothing to do with being 'Christian' or 'social.'"
But the CSU, which has pushed for tighter immigration policies, defended its position.
Bavaria's state interior minister, Joachim Herrmann, said Wednesday the terror attack in Afghanistan was "horrible but must not lead to an end of deportations."
Read: Types of protection in Germany for asylum seekers
Responding to the tumult in Bavaria, CSU head Horst Seehofer, spoke of "difficult decisions" for every deportation.
"We must, on the one hand, see if integration works, and, on the other hand, we must be careful not to create massive new refugee flows," he said.
cw, ipj/rt (KNA, dpa, AFP, Bayerischer Rundfunk)