A day after the terrorist attack that left seven people dead, including the attackers themselves, Indonesian authorities are still on high alert amid fears of another such incident.
The raid on a busy Starbucks and nearby police post left the country shaken, as heavily armed security personnel engaged with gunmen in the streets of downtown Jakarta. Shortly after the standoff, the so-called "Islamic State" (IS) terrorist organization claimed responsibility for the attacks.
On Friday, a government spokesperson confirmed that a black IS flag had been found in the home of one of the attackers.
Fear of IS influence grows
Jakarta police chief Tito Karnavian said authorities were searching for more suspects. He pointed to a group led by Bahrun Naim, a militant with links to IS, as the ones most likely to be responsible for the violence.
President Joko Widodo took to Twitter to call for solidarity in the wake of the attacks. "There is no place for terrorism in Indonesia. All citizens of the world must unite to fight it," he wrote.
Officials in Indonesia, the world's most populous Muslim country, have grown increasingly concerned about the possibility of homegrown terrorism. An estimated 500 to 700 Indonesians have gone to the Middle East to fight with IS.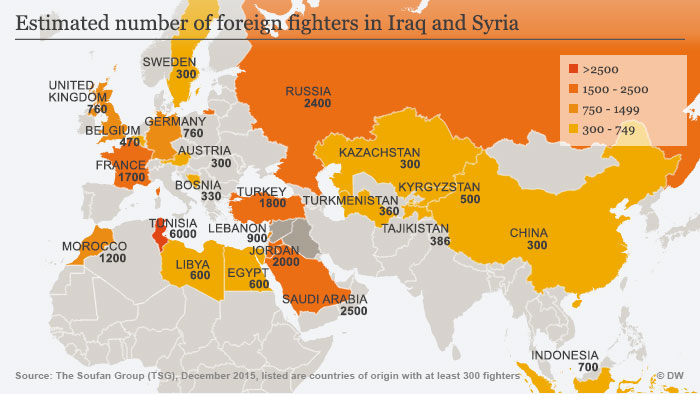 Several arrests
Indonesian media reported that several arrests were made following the attacks, although it was not clear if the suspects were directly linked to the attack in Jakarta on Thursday.
Authorities said the suspects were currently in custody and being questioned.
Many embassies around the country were closed, while the resort island of Bali - the site of a major terror attack in 2002 - was put on high alert.
blc/rc (AP, Reuters, dpa)