Speaking to Catholic newspaper "La Croix," Interior Minister Bernard Cazeneuve said the ban was "unconstitutional, ineffective and would evoke antagonisms and irreparable tensions." He said some people wanted to use the garment to stigmatize Muslims and attract voters.
His statement came shortly after France's highest administrative court, the Council of State, revoked a ban on the swimsuit on the beaches of a southern town, Villeneuve-Loubet. The French constitution prohibits religious displays in public institutions. The French parliament banned the burqa and the niqab in 2010.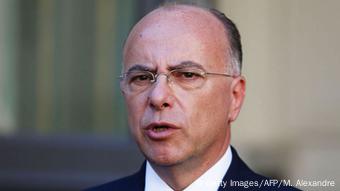 Cazeneuve is planning a foundation aimed at rooting Islam in French values
Around 30 towns and villages imposed a prohibition on the burkini, which they considered a symbol of radical Islam and a potential threat to security. France has been the target of several terror attacks in recent months, the latest being on Bastille Day in July, when an Islamist deliberately rammed a truck into a crowd in Nice, killing 86 people, including children.
Cazeneuve also met leaders of France's Muslim community on Monday, saying, "We need an Islam that stands with both feet in the republic."
He said a "strong and calm" relationship was necessary with the community. "France is at war with terrorists, at war with an enemy trying to divide it and pit the French against each other, fracture the nation's body, sap the republic," the minister told reporters. "We must not fall into this mortal trap, he added."
The day-long conference was an attempt to create an "Islam of France" that respected secular French values, Cazeneuve said. Muslims needed to be "committed to a total defense of the republic in the face of terrorism, in the face of Salafism." French values must "transcend all others," he told French media.
Officials in France plan to create a nation-wide foundation for Islam next year, to train imams in the country's language, its secular history and democratic values. The foundation will also track foreign influence on French Muslims.
mg/gsw (dpa, AP)