The European Union will aid Libya's efforts to rebuild its navy and coast guard, which in turn will - the EU hopes - help the bloc stem the flow of migrants from the North African country.
The call for help came from the UN-backed government in Tripoli. Details of the aid still need to be worked out but an operational plan is expected to emerge in the coming days, according to EU foreign policy chief Federica Mogherini.
"We have agreed today to proceed with operational planning so that we can proceed with decisions as fast as possible," Mogherini told reporters.
The training efforts would likely begin on EU naval ships in international waters, which, she said, "will be very important to control Libya's territorial waters, together with our Libyan partners, as well as to control the migrant influx."
Monday's meeting signaled officials' determination to stop migrant smugglers by using the EU's "Operation Sophia" mission in the Mediterranean.
They also hope to go after arms traffickers on the high seas, but for that they will need the backing of a UN Security Council resolution.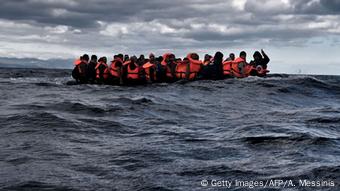 Migrants adrift in the Mediterranean
But for now preventing another migrant crisis in Europe appears to be the priority. Last year more than 1 million migrants - mostly from Syria, Iraq and Afghanistan - fled war and internal strife at home seeking safety in Europe.
Downed at sea
But hundreds also drowned in the Mediterranean Sea last year, some while making the relatively short and safe crossing from Turkey to a series of Greek islands. But many more died on the more perilous journey from Libya to Europe, usually Sicily or the Italian mainland.
Traffickers often pack migrants onto rickety fishing trawlers or inflatable rafts. Some 2000 migrants have been rescued from the waters off Libya by Italian ships on Monday alone.
Despite the support of the UN, Libyan Prime Minister Fayez Seraj still hasn't established his government beyond Tripoli. But he wrote to Mogherini, requesting the naval support, and training for Libya's security personnel.
Seraj's request was broad but governments are divided about how far to go in Libya. The United States wants NATO to take a more active role in helping the EU's naval mission, a position Britain shares.
"The Libyan coastguard is the basis on which we have to build security in the coastal waters of Libya," British Foreign Secretary Philip Hammond told reporters. "We can provide training, we can provide equipment, we can provide additional technical support."
The EU has long wanted to move Operation Sophia into Libyan waters and, eventually, on to land to fight human traffickers. But the failure of Libyans to come together behind a unity government has delayed those efforts.
bik/rc (Reuters, AP, dpa)