The killings of eight members of the banned SIMI group by police on Monday, October 31, after they escaped from a high security prison in Bhopal, have raised several questions. A number of political parties have demanded a judicial probe into the police encounter to establish if the SIMI members were armed and had engaged in gunfire with the security forces.
SIMI, which now operates underground, was proscribed in 2001 by the Indian government under the Unlawful Activities (Prevention) Act, 1967, for its alleged anti-national activities. At one point, the group's main leadership was supported by over 400 ansars or the decision-making cadre. SIMI has remained a major concern for the security agencies because of its alleged links with terrorist organizations like the Indian Mujahedeen (IM) and with Pakistan-based Islamist groups such as the Lashkar-e-Taiba (LeT) and Jaish-e-Mohammed. Intelligence agencies believe the outfit also has ties with the Harkat-ul-Jehad-al Islami Bangladesh (HuJI-B) group.
"Over the years, SIMI has radicalized scores of Muslim youth and established networks to plan and execute terrorist attacks on Indian soil," Yogesh Chaudhary, a senior police official, told DW.
According to the SIMI manifesto, the group wants to "liberate India"' and "restore" an Islamic society in the country, an ideological goal it shares with several other Islamist groups in the region.
"Nobody knows the exact number of the SIMI members as it keeps a low profile. But it definitely has a presence in states such as Andhra Pradesh, Telangana, Karnataka, Tamil Nadu, Maharashtra, Uttarakhand and Uttar Pradesh," a senior member of the National Investigating Agency (NIA) told DW on condition of anonymity.
Involved in 'several attacks'
SIMI was founded in April 1977 in the northern state of Uttar Pradesh as a student wing of the Jamaat-e-Islami Hind. It was the brainchild of Mohammad Ahmadullah Siddiqi, a Media Studies professor at the Western Illinois University Macomb, US. Siddiqui was also the group's founding president.
In 1981, SIMI ended its alliance with the Jamaat. In 2006, the organization split after former president Shahid Badr Falahi led a revolt against the radical leader Safdar Nagori. Since 2008, Nagori has been in jail, charged with sedition and for his involvement in several terror attacks in India.
"SIMI's links with the Indian Mujahedeen (IM), a home-grown terrorist organization that was active in 2005-06, is beyond doubt. With the support of Pakistan-based militant groups, IM collaborated with SIMI cadres and unleashed a series of attacks in many Indian cities," Ajay Sahni, a counter- terrorism expert, told DW.
According to security agencies, IM carried out close to 30 bomb blasts in cities like Delhi, Mumbai, Ahmedabad, Bangalore, Hyderabad, Jaipur, Patna and Varanasi, killing over 200 people between 2006 and 2013. SIMI provided logistical support to IM.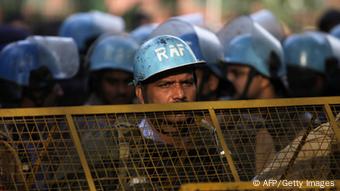 SIMI's alleged links with regional and international terror groups have been a cause for concern for authorities
Is the group still active?
"I am not sure if SIMI is still active, but it certainly has a network in India, which is the biggest worry for the country's security and intelligence agencies," said Sahni.
According to South Asia Terrorism Portal, a database on terror outfits, SIMI reportedly receives financial assistance from the World Assembly of Muslim Youth in Riyadh, Saudi Arabia, and also maintains close links with the International Islamic Federation of Students' Organizations (IIFSO) in Kuwait. It also receives funds from Pakistan, the Portal said.
The government hasn't been able to establish SIMI's connections with the so-called "Islamic State" (IS) and al Qaeda. But in February this year, when the security forces carried out a raid on a rented house in the eastern state of Odisha and arrested five SIMI operatives, they were surprised by the revelations. Investigators said the group's members were "highly radicalized, impressed by IS online propaganda, and were waiting for an offer to fight in Syria."
"All of them were using Hindu names as cover and had also forged identity cards. We need to investigate if other operatives such as these are active in other parts of the country," said the NIA official.