A long story came to a preliminary end in Zimbabwe's parliament on Tuesday: A constitutional review committee submitted the new draft constitution to the house for debate. The move follows six months of internal discussions between President Mugabe's ZANU-PF and Prime Minister Morgan Tsvangirai's MDC party. Both have been partners in a coalition government since 2008.
Committee chairman Douglas Mwonzora told parliament that debate on the draft constitution would officially start on Wednesday. If parliament approves the draft, it would be put to a referendum this year.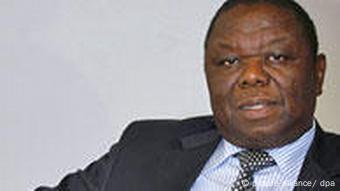 Prime Minister Tsvangirai's party is a partner in the coalition government.
Jessie Majome, the spokesman for the review committee is confident that the draft constitution will be approved by the electorate.
"This draft is a product of the same people themselves. It is unlikely that they will disown what they actually said," she noted. "Of course some views were divergent, but it is an averaging down of all the views that came down," Majome added.
Hunting for funds
If approved, the referendum is expected to be held by April. However, more than $100 million (74 million euros) are needed to carry out the exercise.
While President Robert Mugabe's government is hunting for funds, some civil society organizations have expressed reservations about the draft.
"This is not a democratic and people-driven constitution", said Lovemore Madhuku, chairman of the National Constitutional Assembly (NCA) umbrella group.
"This country is not in such a crisis that we deserve a constitution which is not good for us", he added. Some civil society activists like Madhuku argue that the current draft constitution has first to pass a democratic people-driven test.
Politicians vs. civic organizations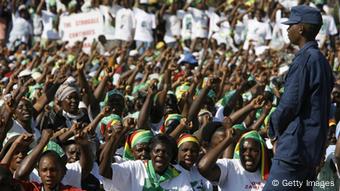 Elections are expected to be held this year.
The new draft constitution curbs the powers of the president and gives both the parliament and the cabinet a greater say in the country's affairs. The president would be forced to exercise his powers in consultation with cabinet.
The situation in Zimbabwe is reminiscent of the constitutional debate in 2000. Then, the government of President Robert Mugabe put a new constitution to a referendum. It was supposed to replace the present one that has been in place since Zimbabwe gained independence in 1979. Civic organizations lobbied against the draft, which was eventually defeated.