Celebrations erupted in Harare and other Zimbabwean cities as the news of Robert Mugabe's resignation broke on Tuesday. The nation's lawmakers also cheered and danced in the parliament after Speaker Jacob Mudenda announced Mugabe's decision.
"I Robert Gabriel Mugabe in terms of section 96 of the constitution of Zimbabwe hereby formally tender my resignation... with immediate effect," Mugabe said in his letter, which Mudenda read out in parliament.
"My decision to resign is voluntary on my part and arises from my concern for the welfare of the people of Zimbabwe and my desire for a smooth, non-violent transfer of power," the letter continued.
The news was delivered as a joint session of parliament convened to debate a motion to impeach the 93-year-old leader.
The chief whip of the ruling ZANU-PF party, said recently sacked Vice President Emmerson Mnangagwa would take over as interim president. Mnangagwa, also known as "the Crocodile" fled to South Africa saying that he feared for his safety.
"Mnangagwa... will come back in the next 24 hours or so and he will be the one who will be sworn in to be (interim) president for 90 days," said party spokesman Simon Khaya Moyo on Tuesday.
.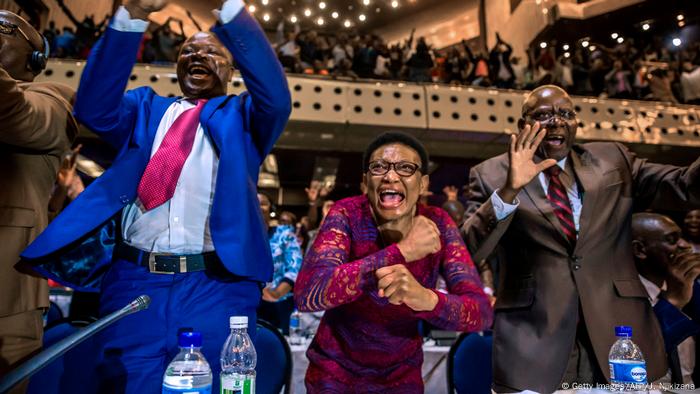 Lawmakers in Zimbabwe's parliament celebrate as Mugabe's resignation letter is read out
Euphoric crowds gathered outside parliament cheered and danced, while passing cars honked their horns, as news of the resignation spread. Zimbabweans living in South Africa also took to the streets to celebrate, dancing and blowing vuvuzelas.
"I am so emotional. I never thought I would see this day," exiled journalist Trevor Ncube wrote on Twitter. "This is a stepping stone toward the Zimbabwe we want."
End of 37-year rule
Mugabe's downfall comes after ZANU-PF's central committee removed him as party leader at the weekend and appointed Mnangagwa to take over.
During a long and rambling address to the nation on Sunday evening, the ailing president appeared determined to cling to power until a party congress next month.
He had been accused of being too old to rule and allowing his wife to "usurp" power.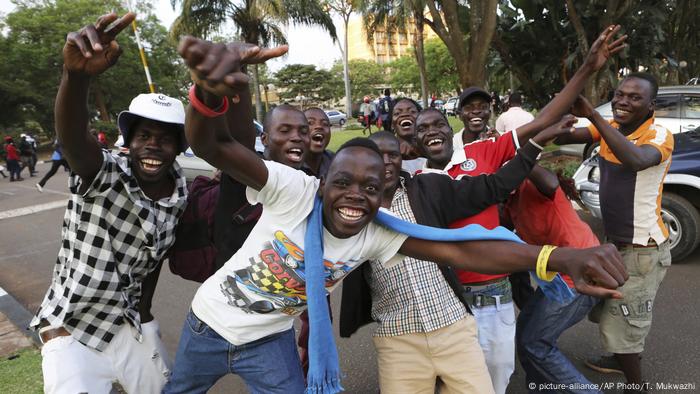 Zimbabweans celebrate the end of Mugabe's 37-year rule on the streets of the capital, Harare
The coup that wasn't
Military generals seized power last Tuesday, after it emerged that Mugabe had fired Vice President Mnangawa and was set to install his highly unpopular wife, Grace Mugabe. Mugabe has been under house arrest ever since, refusing to step down as president after initial talks with the army.
The army insisted that it did not carry out a military coup, but was conducting an operation to uncover "criminals around (Mugabe) who are committing crimes." This was interpreted as a veiled reference to supporters of the ambitious First Lady.
Read more:
- Zimbabwe coup: China's influence under scrutiny
- German leaders cautious on topic of post-Mugabe Zimbabwe
- Zimbabwe takeover: Difficulties of navigating the media jungle
UK: Opportunity for 'new path'
Mugabe, the world's oldest head of state, had led Zimbabwe since independence from Britain in 1980.
Following his resignation, British Prime Minister Theresa May said Zimbabwe now had "an opportunity to forge a new path free of the oppression that characterized his rule."
She added that the Zimbabwean people have shown they want "free and fair elections and the opportunity to rebuild the country's economy under a legitimate government."
The US Embassy in Harare said Mugabe's resignation "marks an historic moment" for the country. In a statement, it said "the path forward must lead to free, fair and inclusive elections," adding that the United States urges "unwavering respect for the rule of law."
UN Secretary-General Antonio Guterres encouraged Zimbabweans to "maintain calm and restraint," a spokesman said.
Earlier Tuesday, Zimbabwe opposition leader Morgan Tsvangirai told a crowd outside parliament that the culture of the ruling party "must end" and everyone must work together toward free and fair elections.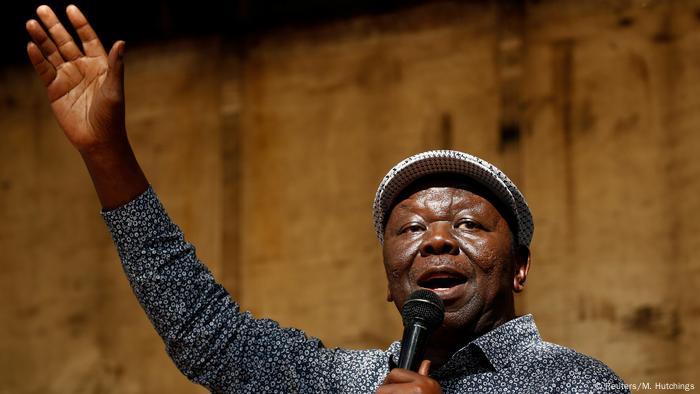 Opposition leader Morgan Tsvangirai calls for a new era in Zimbabwe after Mugabe steps down
With many jubilant at the end of the repressive and economically disastrous Mugabe era, there are concerns that the military takeover last week will not herald a period of change, but rather, will continue the status quo.
If Mnangagwa replaces Mugabe it will give legitimacy to the change of leadership, as the Zimbabwe Defense Forces (ZDF) could not take over control of the country without risking regional alliances. By refusing to acknowledge the coup d'etat for what it is, the military is trying to avoid triggering an automatic expulsion from the Southern African Development Community (SADC) and the African Union.
What is left for Zimbabwean democracy?
According to James Hamill, Zimbabwe expert from the University of Leicester, no such thing ever existed.
"The coup has formally stripped away the facade that Zimbabwe is a constitutional state. This is clearly a militarized party-state where the military is a pivotal actor in the ruling party's internal politics."
Hamill believes the military intervention has been engineered as a way of ending Grace Mugabe's presidential ambitions and installing Emmerson Mnangagwa. "The only difference this time is that its intervention is designed to control events within ZANU-PF rather than to crush opposition to it," he says.
Mnangagwa has been involved at every stage of Mugabe's violent repression and human rights abuses over the last 37 years. Known as Mugabe's henchman, with close ties to the military and intelligence services, his ruthlessness earned him the nickname, "the Crocodile." He once famously said he had been trained to "destroy and kill," although he later claimed he had become a born-again Christian. He was behind the genocide of the Ndebele people in the early 1980s, which saw over 20,000 murdered, right up to the more recent atrocities in 2008, where the opposition to the ruling ZANU-PF party was brutally crushed.
The concern is, as Hamill puts it, the future of Zimbabwe under Mnangagwa may turn out to be "Mugabeism without Mugabe."