White doves were sent into the sky over the capital Harare, people spilled on to the streets and talk of a "new independence" and a "rebirth" gathered momentum under the hashtag #zim38.
The Herald newspaper drew a comparison between the euphoria that gripped Zimbabwe when the military removed Mugabe from office in November and when the country became independent in April 1980.
Mnangagwa upbeat
The economy was on the upswing, Emmerson Mnangagwa, the ruling ZANU-PF party politician who replaced Mugabe, told a crowd at the National Sports Stadium in Harare.
He listed "positive performance" in the agriculture, mining, tourism and construction sectors.
"This renewed domestic and foreign investor confidence has seen our projected economic growth increase from 3.7 last year to 4.5 percent in 2018," he said.
However, Zimbabweans were free only in the political context, one unemployed person attending the event told Deutsche Welle.
"No, no, we are not free... In terms of economic participation, as young people, we are failing to get jobs, " Tamuka Charakupa said.
Mugabe left out
94-year-old Robert Mugabe was notably absent from key events to mark independence. There wasn't even a mention of him in Mnangagwa's hour-long speech at the stadium.
Mugabe was elected first prime minister at independence and later president of the once British-ruled Rhodesia. As his tenure wore on, he clung to power through disastrous policies, violence and widespread corruption.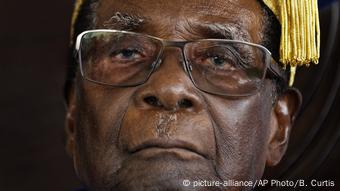 Robert Mugabe was removed from office by the army in November 2017. The army denied it had been a coup
The post-Mugabe government's optimism is in contrast to what political analysts have been saying about some of the realities in the wake of the fall of a "dictator."
No major turnaround
"These celebrations come at a time when the opposition is in a deep crisis. The civil society is not strong, the economy is not doing well, unemployment is high," David Monyae of the University of Johannesburg in neighboring South Africa, told DW.
"The economy itself hasn't made any major turnaround," he said. It is, however, widely expected that remaining international sanctions will be lifted, especially after elections set for July or August, and that this will ease the problem.
Mnangagwa has already travelled to China, Zimbabwe's biggest investor, and is seeking closer ties with the United States and European Union governments. He has also indicated he wants to see Zimbabwe rejoin groups such as the Commonwealth.
The veteran ZANU-PF politician plans to run for president in the elections later this year. Observers have been invited to oversee the poll for the first time in more than a decade. Zimbabwe's opposition Movement for Democratic Change is being treated better than it was under Mugabe.
Zimbabwe's current president, Emmerson Mnangagwa (right) has been circulating among regional and world leaders as the country prepares for elections
Mnangagwa is expected to face continued close scrutiny at home and abroad, especially over his ties to the old guard in Zimbabwe.
"He appears to be the best that ZANU-PF have. He appears to be open minded with all other negative records that he has. He appears genuine in wanting to open up the political space and to rehabilitate Zimbabwe's economy," said Monyae.