"Of course our students all have a knack for technology," said Dirk Waldhoff, who's in charge of the career service department at Berlin's Mediadesign Hochschule (Media Design College). "But here they also have to work with their hands."
What he means by that is that the game designers of the future start by shaping figures out of play dough and building Styrofoam castles, before they move into the world of three-dimensional computer games.
"That gets the students to think in a more playful way," said Waldhoff. "At first it's unfamiliar, but then the young people really get enthusiastic about it. They're proud to have made something tangible with their own hands."
Printing like Gutenberg
That's why the school has set up a metal type workshop for the next generation of typographers. Old printing presses and accessories were transported to the workshop, which now contains 100,000 characters that are ready to be used letter for letter, just like in Johannes Gutenberg's time.
"Typesetting is experiencing a kind of renaissance," said instructor Raymond Meier from the Mediadesign Hochschule.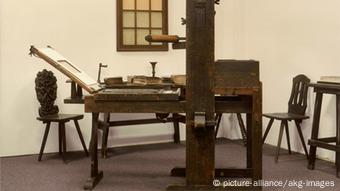 Old-fashioned printing is not only time intensive but also costly
Although he spends 95 percent of his time at the computer, he wouldn't want to miss his analogue work time. "There are always discussions about whether design colleges really need traditional workshops," said Meier. "I'm 100 percent convinced that they do. Touching something, feeling it and experimenting with it is important to be able to creatively design something later on."
Raymond Meier recently designed a business card on the computer in just three minutes. With the printing press, he would need three hours to create the same result. But he's still a fan of traditional techniques.
"The raised ink, the beautiful print - I haven't held something like that in my hands for a long time," said Meier. He admits, however, that the art of printing will remain a niche field. "It's not just a matter of time, but also a matter of money. Traditional handicraft is often more expensive to produce. But appreciation for it will grow."
Finding meaning in aesthetics
Another trendsetter in resurrecting old-school crafts is the Institute for Book Arts in Leipzig, where students from all over the world can learn bookbinding methods that are centuries old.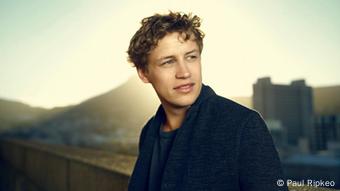 Tim Bendzko puts a new twist on a classic sound
Student Benjamin Buchegger of Austria says the printed book is to the e-book what painting is to photography. "The book as a conveyer of information is dying out and that liberates it to become a piece of art itself," he said.
Calligraphy, which was mandatory in German schools until just 20 years ago, has now become a hobby. In writing workshops, enthusiasts like Lore Birkner carefully write individual letters with heavy fountain pens.
"It's really enjoyable, and it's a lot more personal than the whole computer world," said Birkner.
Unplugged and heartfelt
The renewed interest in pre-digital arts has also found its way into the field of music. Young German pop musicians like Philipp Poisel and Tim Bendzko have found a following with a largely acoustic sound. Poisel is known for his simple, passionate songs, which he accompanies himself on guitar. Bendzko surrounds himself with an unplugged band including piano, cello and accordion.
While other pop musicians bring back the artificial synthesizer sounds from the 1980s, these two don't need cables and plugs to conquer the hearts of their female fans - and win a few big music prizes along the way.
Techno meets classical music
In the music scene, mixing digital and analogue elements has long been a practice, with pioneers like genre-bending American composer Philip Glass, who was born in 1937. Even DJ legends like Jeff Mills and Carl Craig, also from the US, have performed together with classical orchestras.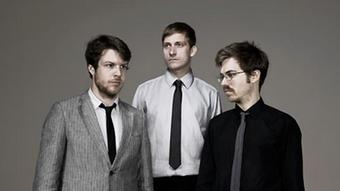 Berlin-based trio Brandt Brauer Frick builds bridges between genres
Berlin-based trio Brandt Brauer Frick combines electronic with pop and classical music, even though they're often put into the "techno" box, which member Paul Frick can't understand. "I had to study composition for eight years before I even started liking techno," he said. With techno, he doesn't mean artificial dull bass lines, rather club music that only uses one machine: an analogue Moog synthesizer.
Brandt Brauer Frick makes its music with a traditional set of instruments: drum set, xylophone, carillon, cello, violin, trumpet, tuba, and harp.
Today's young generation certainly won't do without digital. But experimenting with the tools of the past helps the designers, artists and musicians of tomorrow seamlessly integrate their work into our greater cultural legacy.