Heavy fighting between Yemeni forces and Shiite rebels has killed more than 100 fighters on both sides this past week.
Medics in the administrative district of Aden, where the Yemini government is based, said they had received 52 bodies, including 20 soldiers, from Friday to Saturday. That brings the combat death toll to at least 110 since Wednesday. The other victims appeared to be rebel fighters, according to the medics.
Government forces are reportedly within 20 kilometers (12 miles) of Hodeida, a key port city on the Red Sea that is held by rebels.
The government hasn't said definitively that it's planning an all-out assault on the city of 400,000, but it has long chafed over the rebels' control of the urban port town, which they say is being used to smuggle in small arms and rockets. The rebels deny that claim. But a government-backed air strike hit the port this week (above).
International watchdogs and aid workers warn against an attack on the city, saying it would result in a humanitarian disaster that would extend far beyond the city limits.
The vast majority of international aid — both food and medicine — flows through the port of Hodeida.
Read more: Saudi Arabia says rebels killed in air strike
Jan Egeland, secretary-general of the Norwegian Refugee Council, said the situation is rapidly deteriorating in the suburbs of Hodeida, and warned against all-out war in the city.
"The coalition ground forces are now at the doorstep of this heavily fortified, heavily mined port city," he said. "Thousands of civilians are fleeing from the outskirts of Hodeida which is now a battle zone."
"We cannot have war in Hodeida," he added, "it would be like war in Rotterdam or Antwerp, these are comparable cities in Europe."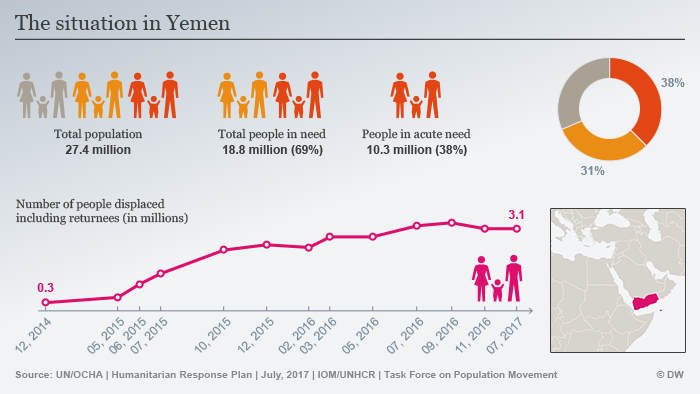 Civil war stalemate
The UN said this week it's "extremely concerned" about the situation in Hodeida.
In March, Amnesty International said fighting in the region had displaced 100,000 people in recent months, mostly from Hodeida. And it warned, ominously, that the "the worst could be yet to come."
Government forces, with the backing of a Saudi-led coalition, have been locked in a civil war with Iranian-backed Houthi rebels since March 2015. So far neither side has been able to turn the conflict to their advantage.
The three-year-old war has killed more than 10,000 people and displaced more than 3 million.
The country has been pushed to the brink of famine, its health care system has been crippled and its infrastructure has been badly damaged.
The UN has labeled Yemen the world's worst humanitarian crisis, with more than 22 million people in need of aid. Malnutrition, cholera and other diseases have killed or sickened thousands during the course of the war.
Read more: Yemen truce brings lull in fighting
bik/rc (AP, Reuters, AFP)
Each evening at 1830 UTC, DW's editors send out a selection of the day's hard news and quality feature journalism. You can sign up to receive it directly here.