For the first time ever, the name at the top of the Forbes Magazine list of the world's richest people belongs to someone not from Europe, or the US, or an oil-rich Arab state, but to someone from the developing world.
Carlos Slim, a Mexican civil engineer who is now half a billion dollars richer than previous list-topper Bill Gates, is worth $53.5 billion (39.2 billion euros), according to the 2010 Forbes magazine list of billionaires released Wednesday.
He built a telecom and mobile communications empire after buying Mexican telephone monopoly Telmex in 1990, and has gone on to own department stores, construction companies, and financial services firm Inbursa Financial Group, among other investments.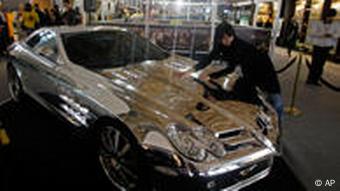 There are 1,011 people in the world with net worth of $1 billion or more
Wealth-watchers point to the list as evidence that there is money to be made in the developing world.
"The global economy is recovering. The financial markets came back, especially emerging markets," magazine editor-in-chief Steve Forbes told Agence France Presse.
Western nations still dominate
Microsoft founder Bill Gates appears in the number-two slot, and investor Warren Buffet is number three. A European does not appear on the list until number 7, Bernard Arnault, the french head of LVMH, the conglomerate that owns luxury brands Louis Vuitton and Moet & Chandon. Spaniard Amancio Ortega, founder of clothing chain Zara, comes in at number 9 with $25 billion in assets.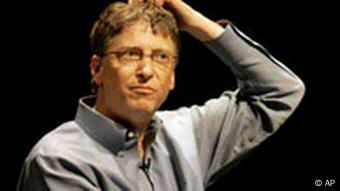 Microsoft's Gates is no longer at the top of the heap
The only German to crack the top 10, Aldi supermarket co-founder Karl Albrecht, is worth $23.5 billion. His brother, Theo, came in at 31st place with $16.7 billion. In all, there are 54 Germans on Forbes list of over 1,000.
But this year's list, the 24th produced by the New York based business magazine, includes a growing number of billionaires from places like China, India, and Brazil.
Europe as a region still produces the second-highest count of ultra-rich, with 248 billionaires with a combined net worth of $1 trillion. Last year, it claimed 196 billionaires worth $665 billion. The United States is still in first place for the country with the most billionaires in the world - 403 of them.
svs/AP/AFP/dpa
Editor: Jennifer Abramsohn