Some 10,000 people were forced to evacuate central Potsdam on Wednesday as authorities defused a 250-kilogram (551 pounds) US aerial bomb from World War II.
The bomb was found on Monday on the grounds of a Sparda Bank across from the city's central station. Authorities cleared an 800-meter radius (roughly a half-mile radius) where the bomb was located. The Potsdam fire department confirmed on its Twitter that the bomb had been diffused at around midday local time.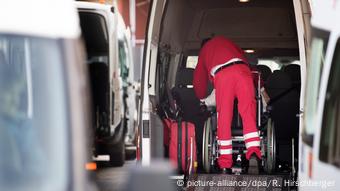 A nursing home was cleared out in Potsdam as part of the evacuation
The evacuation affected several businesses and services, including several nursing homes, schools and daycare nurseries. A swimming pool, a large hotel and the regional parliament building also had to be evacuated.
At least four people did not want to leave the evacuated area, according to local German media. In one case, authorities had to break down a door because an old woman refused to leave her home.
"There is fear and apprehension, especially with some of the older residents, so at times we had to ask very emphatically," city spokeswoman Friederike Herold was quoted as saying by the Berliner Zeitung.
Bomb found in Berlin outskirts
Authorities also had to evacuate Hermsdorf, a district in northwest Berlin, after another 250-kilogram World War II bomb was found Wednesday morning local time.
Bomb dismantlers had to remove two detonators and undertake a controlled detonation to defuse the bomb. The Berlin police confirmed on their Twitter account that the bomb had been successfully defused and posted a video of a crane removing the bomb from the ground.
dv/kms (dpa, AFP)