In the Middle East, where American stock has fallen furthest in recent years, guarded welcome for the new president was evident.
Iran expressed a hope that Barack Obama will "choose the right path" toward Iran, ISNA news agency reported Tuesday.
Foreign Minister Manouchehr Mottaki said that the US had no correct approach towards Iran and always been the "troublemaker."
"But if Obama chooses the right path, compensates the past, lifts hostility and US hegemony, and revises the previous political mistakes, we will have no hostility," Mottaki said.
Iran and the US have been engaged in a protracted face-off over the former's supposed nuclear weapons program, an issue unresolved by the end of George W Bush's presidency. "We hope that angles of optimism would be created with Obama but the facts tell us we should not be optimistic," Mottaki added.
The United States' firmest ally in the region, Israel, was suitably enthusiastic about the new resident of the White House.
Israeli President Shimon Peres said that the inauguration of Obama is a "great day" for the United States because his "most unusual hope and election, only ten years ago, would have been unimaginable," Israeli President Shimon Peres said Tuesday.
"What made history ugly, unmistakably, was basically slavery and there were two sorts of slavery: men upon women and white upon black," Peres said.
In Europe, Obama was welcomed as the beginning of a new, perhaps more multilateral era.
Merkel hopes for stronger US-German ties
German Chancellor Angela Merkel said in a television interview that she is hoping for improved US-German relations under the Obama presidency.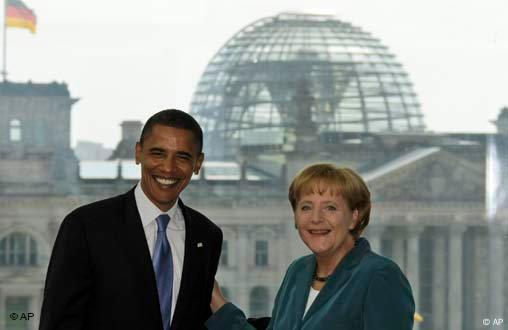 Obama has already had one cautious welcome from Merkel
"I hope that our cooperation is shaped by listening to one another, and making decisions on the basis that one country alone cannot solve the world's problems," Merkel said Tuesday on German state broadcaster ARD. "This is the spirit in which I will encounter him," the chancellor added.
Merkel said Obama was taking office at a time marred by problems, "for one thing, the economic situation in the world and also in the United States of America, but also many international conflicts"
Germany's president, Horst Koehler, congratulated Obama by telegram Tuesday and invited him to visit Germany soon.
Obama has in effect two counterparts in Germany: Koehler as head of state and Chancellor Merkel as head of government.
Referring to this year's anniversary of the end of communism in Germany in 1989, Koehler wrote in the message: "It's largely thanks to our American friends that we Germans are celebrating this year our freedom and unification."
A German newspaper, Rheinische Post, reported meanwhile that German Foreign Minister Frank-Walter Steinmeier had hoped to visit Washington by mid-February to meet the new US secretary of state, Hillary Rodham Clinton, in Washington.
French President Nicolas Sarkozy said Tuesday that he was impatient for Obama to take office so that the two of them could "change the world."
"We are eager to see him go to work so that we can change the world with him," Sarkozy said during a stop in the city of Provins.
Sarkozy in a hurry to change the world with US president
In a message to the new US leader, released by his office, Sarkozy pledged to work closely with Obama.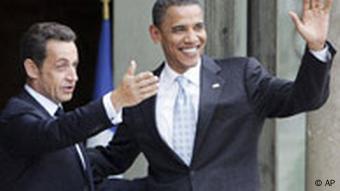 Ready to change the world? Sarkozy and Obama
"I wish to assure you that France is determined to work hand in hand with America, its friend and ally, for us to respond together to the immense challenges our world faces today," Sarkozy said. "With your election, the American people have forcefully expressed its faith in progress and the future, and its desire for a renewed America, open, strong and full of solidarity, which you embody.
"I would like to offer in my own name and that of the French people, my wishes for full success in your role as leader of the American nation," Sarkozy said.
However, Foreign Minister Bernard Kouchner warned that Obama could not work political miracles. "He is an exceptional man," Kouchner said, "but I think we should not expect him to immediately solve all America's problems, nor ours. Barack Obama does not have a magic wand."
The European Commission President Jose Manuel Barroso said he looked forward to working with Obama "to promote a politics of global engagement that will support international institutions reformed to address effectively our global responsibilities, from climate change to development aid, trade, democracy and human rights, and sound financial systems."
In Britain, Queen Elizabeth II and Prime Minister Gordon Brown sent messages of support to Obama as parties were held across Britain to mark the handover of power.
Britain's Brown hails a man of great vision
Brown hailed Obama's inauguration as a "new chapter in both American history and the world's history."
Obama was a "man of great vision," he added, as Obama took the oath of office in Washington. "The whole world is watching the inauguration of President Obama, witnessing a new chapter in both American history and the world's history," he said in Downing Street.
"He's not only the first black American president but he sets out with the determination to solve the world's problems," he added.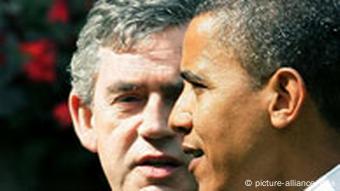 Brown sees Obama as a man of vision in a difficult time
Brown said he had met Obama both in London and Washington. "He is a man of great vision, he is a man of great determination and energy, and he is a man of great moral purpose," he said, adding that Obama faced "unprecedented challenges."
Earlier, Foreign Secretary David Miliband said Britain is confident it can forge a "strong partnership" with Obama, while denying that European leaders were competing for a White House invitation. "In respect of his relations with the UK, I'm very confident that they will be very strong," he told Sky News television.
"But I do predict that over the next few weeks the media will get into a huge flap in this country about which planes are being boarded first by which European leaders, who's getting the first phone call etc," he said. "From our point of view what counts is that Britain has a very strong partnership but also a very strong set of assets to bring to our relationship with the US."
Italy's Prime Minister Silvio Berlusconi offered to work with Obama on the financial crisis, the conflict in the Middle East and Afghanistan.
Berlusconi, whose country currently holds the presidency of the G8, spoke in a congratulatory message of the "importance of working together immediately to confront the current challenges."
He named "the financial crisis and its impact on the real economy, as well as the situation in the Middle East and in Afghanistan."
EU's Czech presidency hopes for a strong US administration
Czech Prime Minister Mirek Topolanek, whose country chairs the European Union until June 30, said he hopes President Obama can be as strong as his predecessors. "I would wish him that he is not afraid to tackle problems as forcefully as his predecessors," Topolanek said.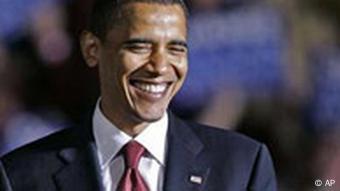 Obama will have to deal with the missile shield question
Topolanek's center-right government, a close ally of outgoing US president George W Bush, is waiting to hear from Obama on plans to place a US missile defense base in the Czech Republic and Poland, former Soviet satellite states.
The Czech premier wished Obama to meet the "great expectations" marking his inauguration. "I would wish Barack Obama that he manages to fulfill at least a portion of (his plans)," he said.
Topolanek also said he hoped that communication between Europe and the United State improves under the new administration.
"The European Union is ready to firm transatlantic partnership together with the American administration and adjust it to changing needs of the contemporary world," the Czech Republic's presidency of the EU said in a statement.
The European response was also marked with a touch of the bizarre. Former French presidential candidate Segolene Royal said Obama was inspired by her campaign and copied it, according to the online edition of the daily Le Monde.
"Yes, I inspired Obama and his teams copied us," Royal said in Washington, where she was the only French politician of note to take part in Obama's inauguration.