Joachim Löw took a morning stroll down the Sochi promenade ahead of Germany's first training session in Sochi on Wednesday. He didn't look like a man under pressure. Only later, when the training-ground sprinklers threatened to drench him in water did Löw's mood look to be somewhat dampened.
One look at Sochi and it's clear to understand Löw. The sun shines bright and the sea is close. It is a world away from Germany's somewhat isolated base camp in Vatutinki – and change is what this team needs.
"Light and warmth are important factors, so it does us good to be here," Oliver Bierhoff told the daily press conference.
The hope is that Sochi can be to Germany in 2018 what "Campo Bahia" was to the 2014 edition of this team. It needs to be.
This is the place where Germany were based for their Confederations Cup victory last year. Some of those winners are in the current squad, and the hope is that a change of scenery can spark a response from a Germany team desperately in need of one. Nevertheless, Germany cannot rely on a beach resort to save their World Cup hopes.
"Blue skies, sun, and beaches cannot play a role. What matters is what we do on the pitch," Bierhoff said, aptly.
What Germany did in Moscow on Sunday was surprisingly poor. The fallout has seen the team involved in heated discussions, although Bierhoff was quick to deny that there was a rift in the team.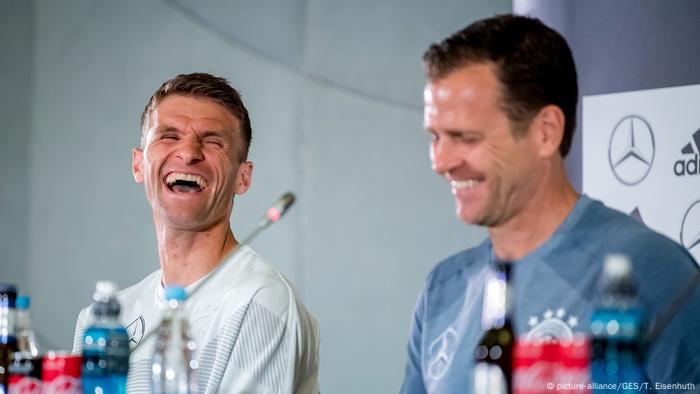 Thomas Müller and Oliver Bierhoff still managed to share a laugh – despite all the gloom and doom since Sunday's defeat
Presumptuous start an error
"I wish the criticsm was a little less personal," Thomas Müller said. The Bayern Munich man was one of many players criticized for the poor display against Mexico, with Mesut Özil once again made the scapegoat for a bad team performance.
From the outside looking in, there are many question marks about this team's real quality and unity. With seven Bayern players in the squad, Müller was quick to challenge the suggestion that there were cliques in the team.
"Is that confirmed? Do you have a source? No? Ok," he said, half jokingly, half seriously in response to a reporter's query. "In 2012 we didn't have great chemistry, but that's not the case now."
What the truth is now is hard to tell. This team is clearly working through some kinks, with Müller even admitting a fear many have had about this Germany team.
"Perhaps we thought a little carelessly that our usual freshness and performance would be present when the tournament got started. That was an error in judgement," Müller said.
The 28-year-old's words are telling, as are Bierhoff's. Germany cannot assume a performance will simply happen or that the sunny change of scenery alone will ignite their World Cup defense. It has to come from them – and it has to come on Saturday.