Dams, power plants, conservation programs and other projects financed by the World Bank have pushed an estimated 3.4 million people out of their homes, off their lands, or threatened their livelihoods, according to research by the International Consortium of Investigative Journalists and other media organizations published on Thursday.
In Nigeria, state authorities evicted people living in Badia East, a slum in the country's largest city Lagos. They were cast out without warning or compensation, the report said. Thousands of Kenyans claim to have been forced out of their homes in their ancestral forests in favor of a conservation program sponsored by the World Bank. Communities in other developing countries told similar stories of eviction and poverty to a team of 50 international journalists.
Human rights organizations have long criticized the bank for failing to monitor the effects on communities of the programs it sponsors.
'Serious shortcomings'
The World Bank admitted to "serious shortcomings in the implementation of its resettlement policies" after it had ordered an internal review of its actions.
"I believe that we must do better in implementing our resettlement policies," World Bank President Jim Yong Kim said Thursday at a press conference in Washington, D.C.
"We are now reviewing our safeguard policies, and I am determined that we will learn from the past, and that we will do all in our own power to protect people and the environment," he added.
However, identifying these shortcomings is not enough, says Jessica Evans, senior researcher and advocate for international financial institutions with Human Rights Watch (HRW).
"After the World Bank has done its own review, it hasn't gone back and worked to identify these people. And find out how they were harmed and work for these people to properly remedy the harm," she told DW.
"But they can't just promise to not make these mistakes in the future. It needs to go back and fix the mistakes that it's made in the past."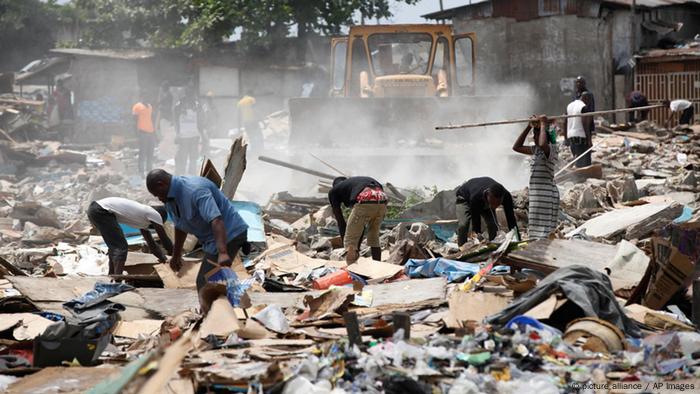 People search through the rubble of their demolished houses in Lagos after bulldozers destroyed their homes
The World Bank was unable to track down how many people were affected by its policies, says Amnesty International's business and human rights analyst Alessandra Masci. And it would rely too heavily on information provided by the borrower, she added.
"The bank does not really verify the information that has been provided by the borrower. And obviously, the borrower has an economic advantage of not presenting the potential problems and the potential negative impact on communities because they want to get the loan. The bank is pushing this loan out the door in a much more rushed way."
Staff is needed on the ground to independently verify information provided by creditors.
That view is echoed by HRW's Evans who says one of the biggest concerns was the World Bank's emphasis on "getting money out the door rather than properly implementing projects, monitoring how they are implemented and ensuring no harm is being done in the context of them."
Protecting the world's most vulnerable people
Poor people are most vulnerable to activities funded by the World Bank - the very same people the institution is trying to lift out of poverty. "People who are resettled often lose many of their livelihood opportunities. For instance, if they rely on subsistence agriculture, sometimes it takes some time to rebuild that agriculture in a new place. This is something that takes a significant amount of time to monitor and the [World] Bank needs to really invest in that," Evans said.
In the case of evictions in Nigeria, "it should have been foreseeable to the bank that these evictions would happen," said Ashfaq Khalfan, AI adviser on human rights beyond borders.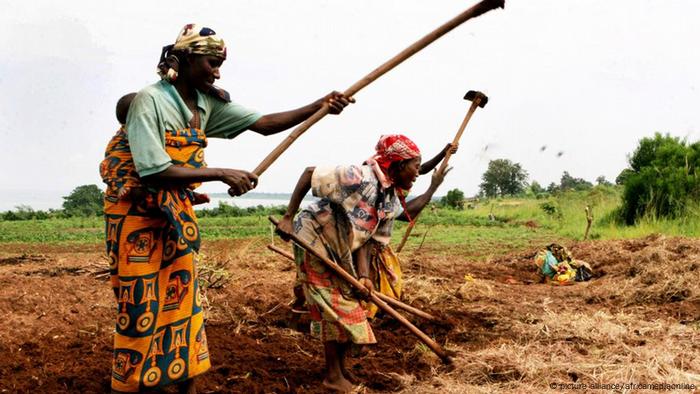 People who rely on farming for their livelihoods struggle if they have to relocate
"They [evictions] had happened before in a previous project it had funded. And yet it lent funds again without putting in place adequate measures, without ensuring basically a guarantee from the Lagos state government that these evictions would not be carried out."
The World Bank is currently reviewing its safeguards - and the first draft was heavily criticized by civil society groups, saying it would dilute existing safeguards.
The bank pointed out that "persons affected by land acquisition are not affected in the same way, or to the same extent, or are not equally vulnerable to hardship as a result."
Germany pushes for human rights
Germany Germany - the World Bank's fourth largest donor - has come forward and said it wants to see priority given to addressing human rights in an appropriate manner - which includes the rights of indigenous people, land rights and greater transparency, as well as including communities in the process.
"Germany can play an important role by ensuring that the World Bank commits to respect human rights," HRW's Evans said. "Germany needs to work with all other governments that are represented through the board of the World Bank to ensure that human rights become a key priority under the bank's new standards."
"Many say the changing of the safeguards is also due to the fact that the bank doesn't feel it's financially relevant anymore, because they have to compete with economies from the BRICS countries that actually are able to provide loans with no strings attached in a much shorter time frame and without many requirements," AI's Masci said.
'Race to the bottom'
"It's a race to the bottom and that's why we feel that the World Bank, being a standard-setting institution, should not play that role."
In its report published in March, the World Bank acknowledged the fact that oversight of projects often had poor or no documentation and lacked to ensure that protection measures were implemented. Some projects were not sufficiently identified as high-risk for populations, the report stated.
Meanwhile, the World Bank has come up with a plan to reform its policies. "We must and will do better," a spokesperson told DW in a statement.
However, human rights activists remain skeptical. "The ultimate problem is: the bank is an institution that prioritizes economic growth over human rights," Khalfan said.