It all started in Lund, a Swedish university town near Malmo. About 90,000 people live in the town, almost 50,000 of them are students, among them Julia Beyer. The young woman from Munich is earning her master's degree in entrepreneurship and innovation. She always knew that she wanted to start her own company but even she is stunned that at age 25, her first product is already available throughout Europe.
"I do a lot of sports and spend a lot of time outside. I like to surf, which means I then have to protect my skin against the sun. But the available sunscreens usually contain very harmful substances."
Read more: Germany's corporate battle of the sexes
This realization was the spark that led to the establishment of her company, Suntribe, which she founded with her fellow students, Karl Roos and Hampus Tarras-Wahlberg. Her goal was to develop a non-toxic sunscreen, thereby protect the environment and sell the lotion throughout the world. "Chemical UV-filters are allegedly responsible for damaging coral reefs. That was another reason why we wanted an environmentally friendly alternative," Beyer explains enthusiastically.
Coconut oil and zinc oxide
The three students gathered information about the ingredients of existing sunscreens and started to look for alternatives. The university's own startup center helped them with contacts to scientists and brokered startup capital for them. The three founders also invested their own savings and worked on launching the company while they continued their studies. Beyer worked in a cafe and when she had time off, she mixed sunscreens from natural ingredients in the kitchen, together with her two co-founders.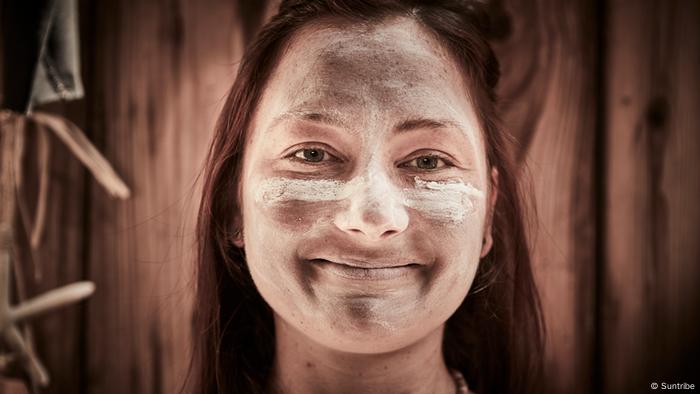 Julia Beyer with her new sunscreen
She worked with coconut oil and cocoa butter and came across zinc oxide, a mineral which absorbs the sun and is environmentally friendly. Now they had their product but still no idea who could manufacture it in large quantities. They had to develop the logistics and create a brand.
That was in 2016 and Beyer didn't sleep much during those months. Often, it was very hard financially as well, she says. She traveled throughout Europe with her partners, looking for the ideal manufacturer. She spent the night in cheap hotels, haggled for good prices and paid attention to production conditions. She learned the hard way.
"Sucker's tax" is what Katharina Goldscheider ironically calls the dues you pay. The woman from Graz, Austria lives in Switzerland and exports her Minibags from there to the whole world.
She is also a proud entrepreneur but there were moments when she wondered if she would ever succeed in offering high-quality bags at affordable prices.
"If you don't know, you pay quite dearly," she says. "One of my first prototypes had a production cost of between €700-800 ($820-930). I could never have sold a bag at those prices." Goldscheider also wanted the product to be manufactured in Europe. "Made in China" wasn't an option for her. "We are Europeans and should produce in Europe, too," she says confidently.
Handbags for women who don't like handbags
She had the idea for the Minibag on a playground. She was there with her two children and simply didn't know where to put her handbag while she stood near the slide with them. That's why she had one of her friends sew a small bag for her that could hold all the small essentials like credit cards, keys and her wallet.
When people kept asking her about the bag, Goldscheider thought that this obviously had to be a market gap and she decided to produce the bags. She doesn't remember how many trade shows she went to in order to find the right supplier, only that she traveled from one town to the next in Italy to negotiate directly with leather producers. The problem was the small run needed.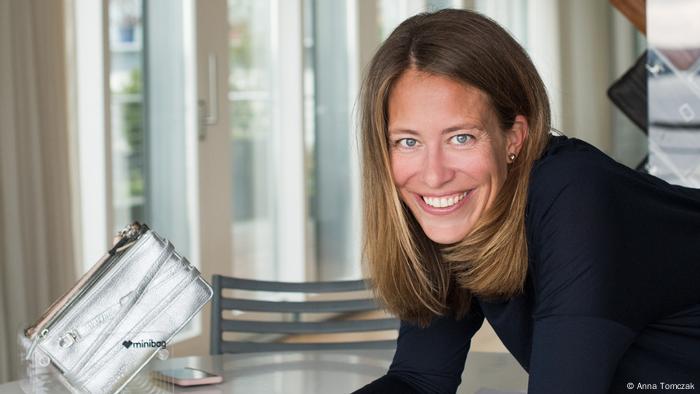 Kathi Goldscheider with her Minibag
"Just when I found a good manufacturer, they canceled because the production of 100 bags wasn't worth the trouble for them," the 44-year-old recalls and adds laughing: "You know, I hate handbags! I'm not the kind of woman that needs a purse for every occasion. That's why I wanted to develop the Minibag because you can always carry it or even pack it into a big handbag if you want to switch." She says the most important thing is to be convinced of your own product — and to keep moving forward.
A digital strategy is key
The decisive factor for the success of both companies was a digital strategy. Both created their own online stores and also sell their products via big platforms like Amazon.
One problem for Suntribe was their lack of visibility. "People didn't find our products, we first had to position it properly," Bayer explains. The Minibags were initially a niche product. But when Goldschneider got digital coaching as part of the project "Female Entrepreneurs of the Future," her internet presence improved and sales went up.
The project offers participants digital coaching over several months and is supported by among others: the Association of German Women Entrepreneurs (VdU); Global Digital Women, an international network of female digital pioneers; the Brigitte Academy, an online personal development platform for women; as well as online retailer Amazon.
"We completely reworked our website, changed text and photos and SEO-optimized everything," Goldscheider explained. "And suddenly orders came in from throughout Europe." In May of this year, she sold as many Minibags as she did in all of 2017.
But for both entrepreneurs, this is just the beginning. Julia Beyer is already working on other environmentally friendly products for outdoor athletes and families. Suntribe has started offering facial creams and sunscreens in various colors as well. Kathie Goldschneider would like to produce a vegan Minibag. But it has to live up to her own standards, which is a challenge since she has not found the right material yet. But the market is ready, she is convinced of that.